Read the story of my Game of Thrones blanket at my blog post here!
All details below are based on US crochet terms.
I made these to crochet, but I imagine they would work fine for knitting as
well, or cross stitch for that matter. So if you decide to use one of my charts
to knit a panel, I'd love to hear about it and see pictures! 🙂
Supplies
Red Heart
Super Saver yarn (or something similar)

Stark
– black and off white/cream
Lannister
–red and gold (for the gold I used another brand; as long as it's the
same weight then it should be fine)
 Baratheon
– yellow and black
Targaryan – black and red
Greyjoy – black and yellow
Tyrell – green and yellow
Tully – red, blue, and white
Martell – orange, red, and yellow
Arryn – blue and white

 Size
H / 5.00 crochet hook
Darning
needle
Scissors
Size/gauge
The panels are 65 x 90 pixels (one pixel = single crochet) and each one
measures roughly 22" x 18" before the border is added (around 23" x 19" after
the border).
Gauge doesn't matter, just try to keep it consistent throughout. For some
reason my panels ended up varying in size quite a bit – some were much bigger
than others! I'm still honestly not sure why that happened, but I do tend to
have trouble keeping consistent tension so that's probably it. Blocking the
panels helped a bit, but it was still a challenge to sew some of them together
when they were different sizes.
How to Read the Chart
Each chart is working from right to left and bottom to top, not counting the
chain. Start by chaining 66 of the first row's colour, then the first stitch of
the first row is the first pixel in the bottom right corner of the chart. One
pixel corresponds to one single crochet. For the odd rows you'll be working
from the front, and for the even rows you'll flip it and be working from the
back.
I subdivided each chart into 5×5 boxes since it helps me count my stitches.
I like to make a little mark beside each row so I know which direction I'm
going, and I cross off/scribble out each row in sharpie as I finish them. Like
this: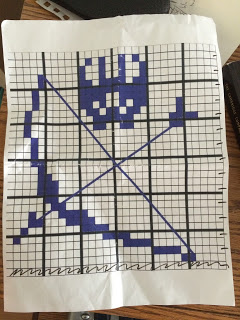 This is the Hawkeye panel of an Avengers blanket I'm… eventually making.
Colour Changes
There are various techniques for changing colours, so it really just depends
on your preference and whether or not you care about what the back looks like.
I decided to line mine in fleece so the back could look as terrible as I
wanted. I personally carried each colour behind as I worked, so I ended up with
a ton of loops at the back of each panel. Sometimes I would also cut a colour
and pick it up later, depending on how far it would be until I needed it again.
I hate weaving in ends, though!
If you don't want to line the blanket, you can either crochet over the
colour you're not using (though it tends to bleed through, I find) or cut the
yarn each time you change colours. There are a LOT of colour changes, though,
so this may drive you insane! You could also do a combination of the two,
crocheting over the unused colour when you have a lot of quick colour changes,
and then cutting the yarn when you have larger gaps between colours.
I also found that because of the nature of crochet stitches, there tends to
be gaps sometimes between colour changes, which can be an issue in particular
with the words (it'll make parts of the letters look like they're not attached
to other parts). I just filled in the gaps after with yarn – often using the
yarn ends, since I had to weave those in anyway.
Border
I added a border of two rows to each panel using single crochet. The first
row I did in the contrasting colour for that panel (ie. For Lannister I used
gold), and the second row I did in black. For a few of the panels (ie. Stark
and Baratheon) the contrasting colour is black so you end up with 2 black rows,
but oh well…
Putting it all together!
Once you've finished all 9 panels, it's time to assemble the blanket! I
decided to crochet them together, and found a tutorial online with different
options. I honestly don't remember which tutorial it was now do I remember the
details of how I did it, but I Googled and found this one (which looks familiar,
so I think it's the one): http://www.woolcrafting.com/crochet-seams.html
She has several methods, so you can choose whichever you prefer.
And the charts!
Click on the picture or caption to download the PDF charts. JPEG version also available if you have issues with PDFs.