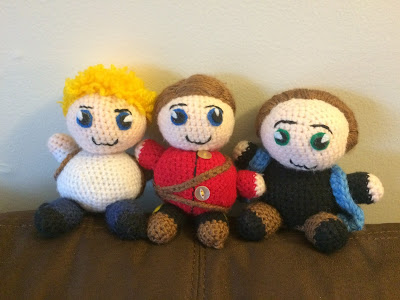 The original Fraser!doll. I wanted to make him a hat but couldn't figure out how… so he is hat-less.
However, his belts and jacket come off so you can see his suspenders!
And the original Ray Kowalski doll. 🙂
The original RayVecchio doll
Fraser with his first Ray. 🙂
Fraser with his second Ray (living in a cabin in Canada together forever <3)
My boys all together, because OT3 works too. <3
Mini Crochet RayK!doll
Mini crochet RayV!doll
Fraser and RayK <3
And Fraser and RayV <3
Three RayK dolls… that's not too many, right?
So fastforward another 5 years from the above, and I made new Fraser and RayK dolls! I wanted to re-make them since I've gotten a lot better over the years and the old ones look a bit… chubby. And Fraser has hair issues. Still can't figure out that damned Mountie hat, though. I got closer this time, but it just didn't look right and he was cuter without it.