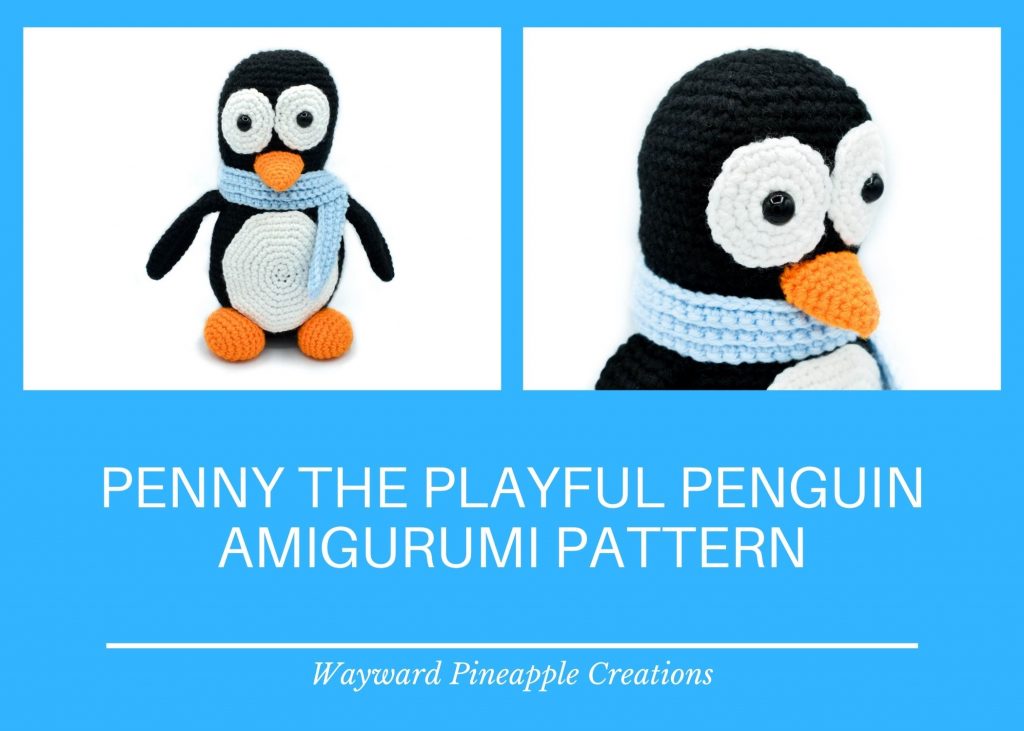 Affiliate Links Disclaimer:  This blog post contains affiliate links, which means that at no additional cost to you I will receive a small commission if you click through and make a purchase.

Do you love penguins? Of course you do! Who doesn't love penguins? With winter approaching, I couldn't resist making a nice cuddly penguin – and I love how she turned out! She just looks so silly and adorable haha, and vaguely startled. My mom bursts out laughing every time she looks at her, so I guess that's a good sign?
Penny the Playful Penguin loves to play and explore, though she sometimes gets into trouble along the way. She doesn't mind, though, it's all part of the adventure! Unlike all the other penguins in the colony, however, she doesn't think much of the cold climate they live in. So she crocheted up a cozy scarf to keep herself warm, and she wears it every day even if the other penguins think she's a bit odd!
Personally, I'm with Penny. I'm currently wrapped up in a blanket with a microwavable heat pad pressed against my back, and a mini heater next to me. I don't do cold!!
Scroll down to learn more about this pattern and to grab your copy from my Pattern Shop, Etsy, or Ravelry.
Join my newsletter and receive your FREE guide to the Five Essential Amigurumi Techniques!
All details below are based on US crochet terms.
Mc: Magic Circle
Ch: Chain
Sl: Slip Stitch
Sc: Single Crochet
Inc: Increase
Dec: Decrease – I recommend using the Invisible Decrease
BLO: Back Loop Only
Download the Penny the Playful Penguin Amigurumi Pattern
My Penny the Playful Penguin Amigurumi Pattern is available for purchase on my website pattern shop, Ravelry, and Etsy. This premium crochet pattern PDF has been tested and includes 10 pages of pictures and detailed instructions to make your very own cuddly penguin.
Benefits Include:
– 10 pages of photos and detailed instructions to make and assemble your penguin
– Ad-free & professionally formatted PDF of the pattern instructions
– Available offline & perfect for printing or downloading to your mobile devices
In addition to the benefits above, your support will be greatly appreciated and will help me to continue designing and offering patterns to you!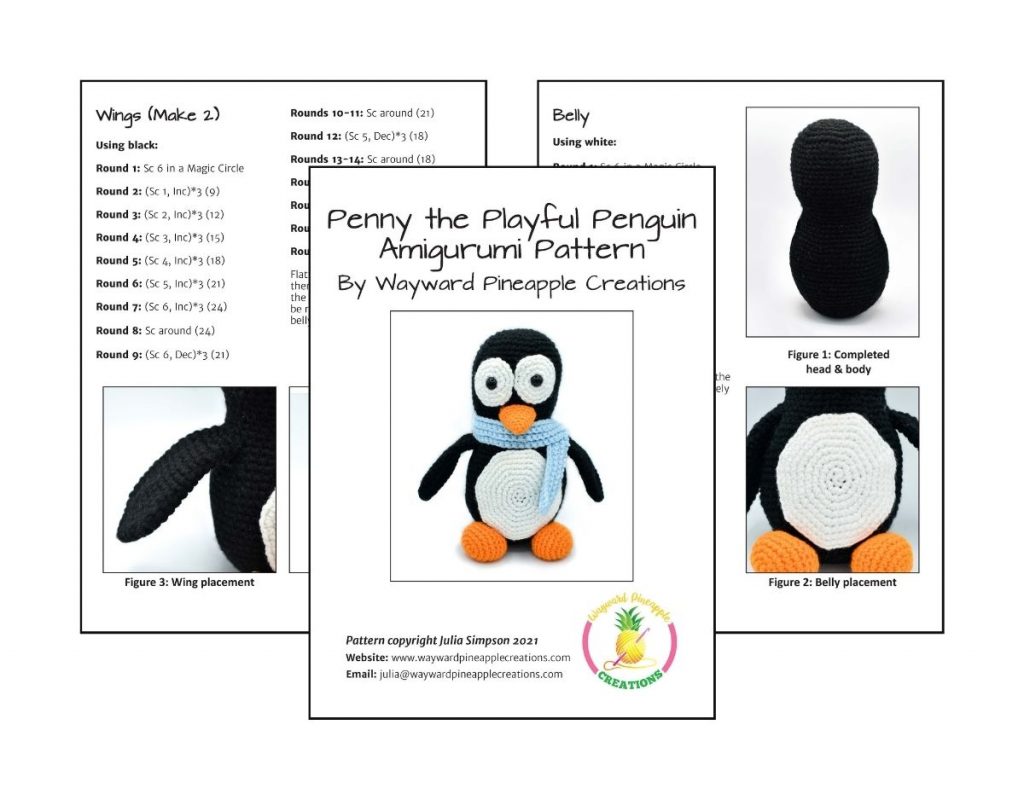 I hope you enjoy this pattern, and if you have any questions please don't hesitate to comment below or email me.
And if you made your own penguin I would love to see a picture on Instagram! Make sure to tag me so I don't miss it, @waywardpineapplecreations.
© Wayward Pineapple Creations | Julia Simpson  This pattern and all related images are copyright protected. You may sell items made from my patterns, but please do not copy/paste, distribute, or alter the pattern and claim it as your own.