26 Days of Love Blog Hop +
Free Pride Hearts Pattern!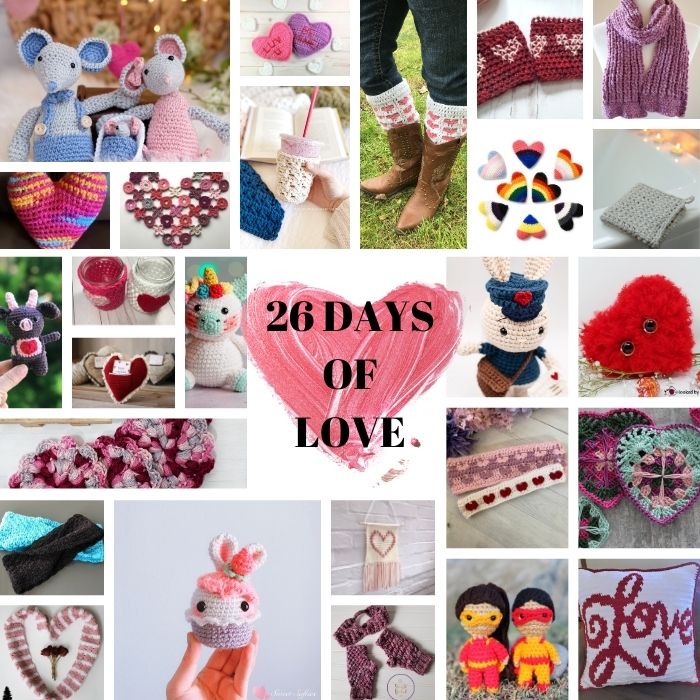 Affiliate Links Disclaimer:  This blog post contains affiliate links and I make a small commission off any purchase you make when you click on them.
Happy New Year! Are we tired yet of talking about how happy we are to say goodbye to 2020? Nope, it's still fun. 🙂 GOODBYE 2020! Going into 2021 my life is pretty up in the air in some ways, but I'm excited for what the new year will bring. Vaccine, visiting my parents in Vancouver again, and growing my business! Plus I'm moving in a week so that's exciting. 🙂
Now that the Christmas crafting extravaganza is behind us, it's time for us crafters to start thinking about what to make next. With Valentine's Day fast approaching next month, and in the interest of spreading some much-needed love around the world, I have a fun new event to share with you: The 26 Days of Love Blog Hop! I've teamed up with 25 other designers and together we are bringing you 26 love-filled crochet patterns between Jan 2-27 – all for FREE!

Read on to learn all about the patterns you can download for free during the
26 Days of Love Blog Hop.
You'll also have the chance to purchase a
special bundle
, which includes 26 patterns from the event and is available to download right now!
About the 26 Days of Love Blog Hop
So, what exactly is the 26 Days of Love Blog Hop, you ask? This awesome event is being organized by the lovely Joy, owner of Anvi's Granny Handicrafts. Joy has has chosen 25 crochet designers, including myself, to create unique Valentine's Day themed designs just for you – perfect to give to your loved one! We are releasing the designs for free between January 2 and January 27.
A new designer will be featured each day, and each designer's premium PDF will be available to download for free on their feature day only!
Visit Anvi's Granny Handicrafts to keep up to date on each day's new design, and to obtain the special coupon codes you'll need to access the patterns for free. You can also sign up for her newsletter to be notified about each day's pattern.
Download my Pride Flag Hearts Amigurumi Pattern - FREE JANUARY 22 ONLY
Show your Pride colours with these adorable stuffed crochet Pride flag hearts! Perfect to celebrate Pride, or to give to your loved one on Valentine's Day. Patterns included for the following flags: Pride Rainbow, Inclusive Pride Rainbow, Trans, Bisexual, Pansexual, Lesbian, Non-Binary, and Asexual.
My Pride Flag Hearts Amigurumi Pattern will be featured and free to download from JAN 22 at 10:00am EST to JAN 23 at 09:59am EST!
How to Access Your Free Pattern
On January 22, 2020 from 00:00 EST – 23:59 EST only:
Step 2: Click on either of the two download links below to visit my Pattern Shop or Ravelry. Click Buy It Now (Ravelry) / Add To Cart (my Pattern Shop) – the price will show up at first, but don't worry!

Step 3: On the checkout page/in your cart, add the coupon code you received in Step 1. Once the coupon code has been applied, the total will be changed to $0.00.
Step 4: Download and enjoy! 🙂
If you have any issues please let me know and I'm happy to help.
Download for free today January 22nd only!
Special Pattern Bundle Deal
As I mentioned above, the 26 Days of Love Blog Hop includes 26 free patterns released daily from Jan 2 – Jan 27. But what if you don't want to check back every day and click around to different websites to obtain your free patterns? Or what if you miss a few days? Well, that's where my next piece of good news in!
For a limited time discount price, you can get the entire bundle of 26 amigurumi patterns TODAY in The 26 Days of Love Pattern Bundle.
This amazing pattern bundle is on sale for a limited time for just $17 – that's 80% off the retail value of $85, or just $0.60 per pattern!
CHECK OUT ALL THE AMAZING DESIGNS INCLUDED AND DON'T WAIT – DOWNLOAD THE BUNDLE TO START MAKING YOUR FAVOURITES TODAY!  
This deal is available until Feb 15, 2021, and then it will be gone forever!
Read on to learn all about the patterns available during the blog hop! Remember, to access these patterns for free you must visit Anvi's Granny Handicrafts to obtain the special coupon code and the pattern links.
This sweet unicorn is a perfect way to show your loved one how much you care. Your sweetie will love the handmade touch.
Don't know how to write love letters? Jojo the Mailman Bunny is so irresistible you can just write a love note and slip it in his mailbag, he'll do the work for you! Plus who said love notes are only for Valentine's Day…
The Blooming Headband is a super quick and easy crochet make. Striped, solid, or ombre, the choices are endless!
The Wrapped in Love Boot Cuffs are quick and easy to crochet! There are SO many color coordinations to choose from. Make a pair for yourself and those you love!
Show your love with a handmade heart. This small Crochet Heart Pillow has the option of adding a pocket, perfect for a small treat, note, or gift.
Subtly textured washcloth that would make a lovely present alongside handmade soap and fragrant candle for a perfect relaxing bath. The washcloth is a super quick and easy make.
These beautiful flower shaped face scrubbies are the perfect gift for your loved ones. Make them with their favorite colors and take another small step towards a zero-waste life with a reusable product!
The Chain of Hearts Headband is a lovely gift to make when you'd like something cute that works up quickly. This easy pattern can easily be adjusted for size so it's perfect for when you need to make headbands for each of your special Valentines.
Based on an old compass rose, the wind rose heart keeps anyone traveling afar, close to your heart.
Now you can get both the Ice Cap Heaband and Ice Cap Fingerless gloves together in one bundle!
Wrap yourself in love this Valentine's Day with the Sweetheart Spike Scarf. The texture of the diagonal spike stitch pairs nicely with half double crochet in this easy 4 row repeat. Make one for yourself or that special someone in any color.
Make this cute mason jar cozy and add a heart applique. Hearts symbolize love. Make one of these cozies for a Valentine's Day project or gift, but it also works for the whole year round. Love is all you need.
Delight your Valentine with these adorable Conversation Heart Pillows and Gift Card Holders. Fill the pocket with candy, treats, or good ole dolla-dolla bills. They work up quickly with your favorite, stash-busting, worsted weight yarn.
Shower your love this Valentine's Day with this easy pillow cover. It is made up of 'x' and 'o' motifs that are joined together to make a heart pattern. I have made it with shades of pink but you could make it with any combination of colors! This is a great stash buster too!