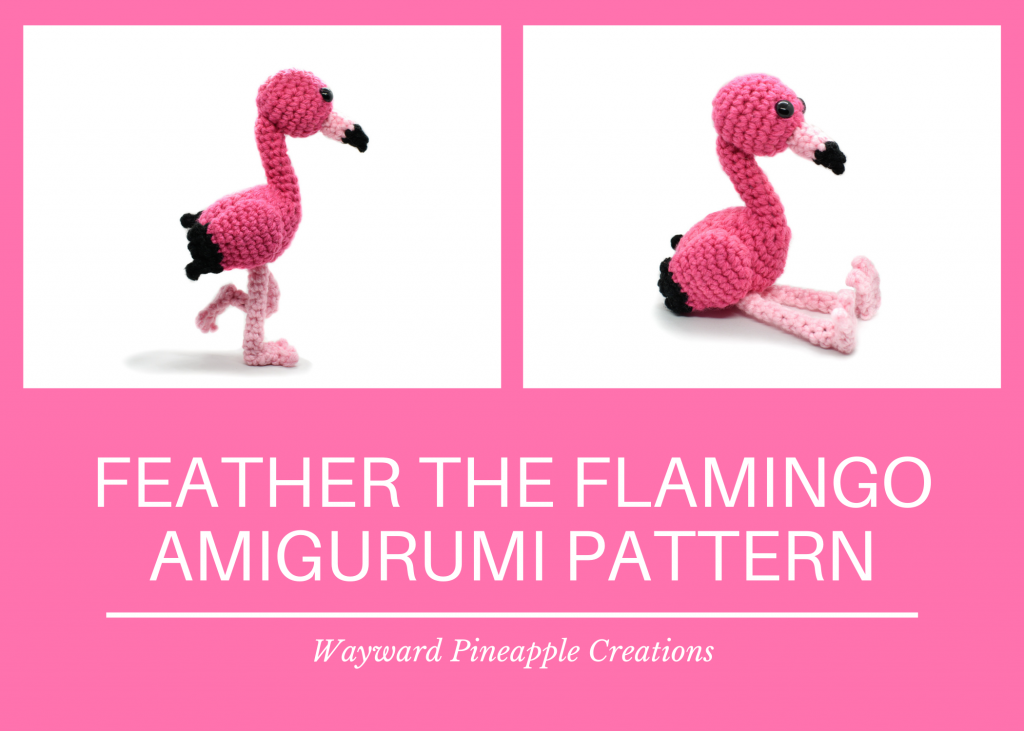 Affiliate Links Disclaimer:  This blog post contains affiliate links and I make a small commission off any purchase you make when you click on them.
Introducing Feather the Flamingo! Isn't she cute? I love her. <3 Feather lives on a tropical island with her best friends Tommy Turtle and Veronica Sloth. She loves to play on the beach with her friends, even if they can't run as fast as she can!
Why Feather, you might be wondering? Where is this all coming from? Well, since last year I've been toying around with an idea for a LGBT-themed children's book about a flamingo named Feather and her girlfriend, using my crochet photos for some of the illustrations. Feather was separated from her family when she was very young and ended up living on a tropical island being raised by the Turtle and Sloth families. Eventually she's going to go on an adventure and meet a fellow flamingo who will be her future girlfriend. <3 I have the story plotted out in my mind, I just… can't seem to put pen to paper. One day! 
As for the name Feather, aside from just seeming apropos it's also a nod to Don Featherstone, the inventor of the pink lawn flamingo. Look up pictures of him, you won't regret it! He sounds like he was a real character. 
I made the first version of Feather a year ago, and she's mainly been my hat model ever since. The Halloween witch's hat she's sporting below is available as a free pattern HERE, and I'm planning to write up the Santa hat eventually too. Several people have expressed interest in making the flamingo herself so I re-made her, wrote up the pattern, and here she is!
Join my newsletter and receive your FREE guide to the Five Essential Amigurumi Techniques!
Worsted weight yarn (Red Heart Super Saver or similar): Perfect Pink, Baby Pink, Black
Size F / 3.75 crochet hook – I recommend the ergonomic Clover Amour hooks
Two 10mm googly eyes or 10mm black safety eyes (Googly eyes are cute, but since they're just attached by glue they aren't very durable. If you're making a toy for a child then safety eyes are a great alternative. For a very young child, the safest option is to embroider them with yarn.
Optional: Wire & pliers – I used 12 gauge wire, it should be thick enough to be sturdy but still easily bendable – do not include wire if you're making a toy for a young child! Also, if you can find wire with a white or pink coating then I'd recommend it, I used black and it shows through. Here is a pink 12 gauge wire that should work well!
Scissors & pins
Stitch marker – I recommend locking stitch markers
Craft glue (if using googly eyes)
All details below are based on US crochet terms.
Mc: Magic Circle
Ch: Chain
Sl: Slip Stitch
Sc: Single Crochet
Inc: Increase
Dec: Decrease – I recommend using the Invisible Decrease
Download the Feather the Flamingo Amigurumi Pattern
My Feather the Flamingo Amigurumi Pattern is available for purchase on my website pattern shop, Ravelry, and Etsy. This premium crochet pattern PDF has been tested and includes 18 pages of pictures and detailed instructions to make your very own Feather the Flamingo Amigurumi Doll.
Note: The witch hat pictured in some of these photos is available as a free pattern. Sew one to your flamingo's head and she'll be all ready for Halloween!
Benefits Include:
– 18 pages of photos and detailed instructions to make and assemble your flamingo
– Ad-free & professionally formatted PDF of the pattern instructions
– Available offline & perfect for printing or downloading to your mobile devices
In addition to the benefits above, your support will be greatly appreciated and will help me to continue designing and offering patterns to you!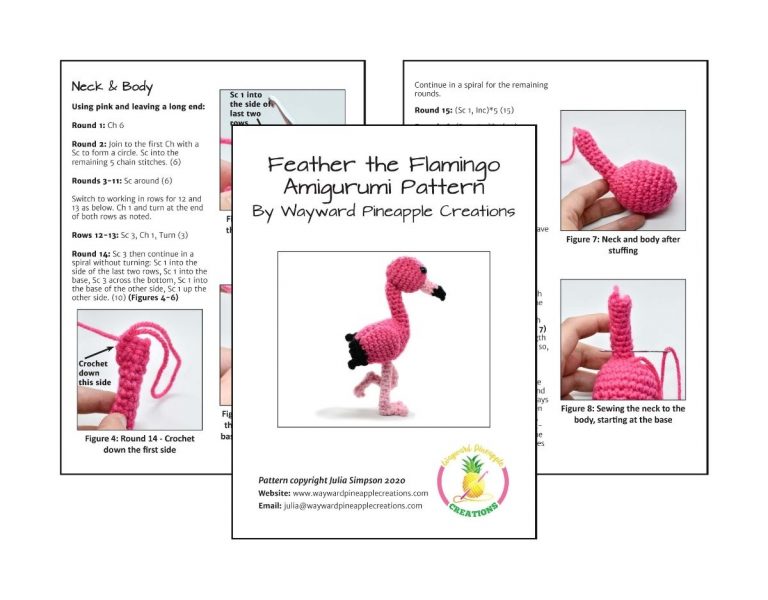 I hope you enjoy this pattern, and if you have any questions please don't hesitate to comment below or email me.
And if you made your own Feather the Flamingo I would love to see a picture on Instagram! Make sure to tag me so I don't miss it, @waywardpineapplecreations.
© Wayward Pineapple Creations | Julia Simpson  This pattern and all related images are copyright protected. You may sell items made from my patterns, but please do not copy/paste, distribute, or alter the pattern and claim it as your own.