Cozy Fireplace Amigurumi Pattern
PLUS learn about the 30 Days of Cozy Pattern Bundle, and enter a MEGA Yarn Giveaway!​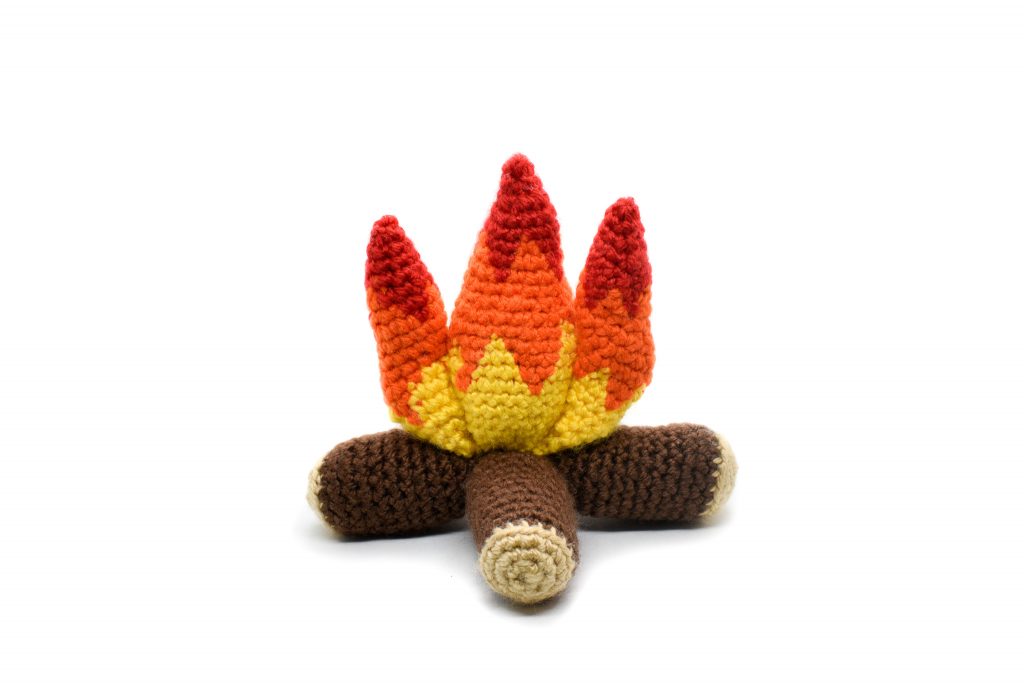 Affiliate Links Disclaimer:  This blog post contains affiliate links and I make a small commission off any purchase you make when you click on that link.  
Happy September! Autumn is upon us in the Northern Hemisphere, and with it comes the coziest time of year. In the chilly nights to come, what could be better than curling up on the couch in front of a blazing fireplace, pulling up your fuzziest blanket, and reading a good book? The warmth of the flames, the flickering light, the gentle crackling of logs burning…
Well, this amigurumi fire doesn't do any of those things. It's made of yarn. However, even if it doesn't make comforting crackling sounds or emit a soft warm glow, this little amigurumi fire is a super cute addition to your holiday decor. Hang it on your Christmas tree or put it on the mantle above your real fireplace! On the plus side, it won't set fire to your Christmas tree.
Read on to learn all about the 30 Days of Cozy and to download my Cozy Fireplace Amigurumi. The pattern is available for purchase in my Pattern Shop, Ravelry, and Etsy. You will also have the chance to purchase a special bundle including all patterns from the 30 Days of Cozy, and enter a raffle to win some free yarn!
About the 30 Days of Cozy
So, what exactly is the 30 Days of Cozy, you ask? This awesome event is being organized by Pam 'The Crochetpreneur' Grice of Made with a Twist & the Crochetpreneur Business Academy. If you followed the 30 Days of Cozy last year then you already know the quality and professionalism of each design that Pam includes in the event. 
This year, Pam has chosen over 30 designers from the CBA, including myself, to create 36 unique holiday home decor themed designs. We are releasing the designs for free each day of September.
A new designer will be featured each day and we'll be sharing an amazing holiday home decor design just for you. Each designer's premium PDF will be available to download for free on their feature day only!
Visit Made with a Twist to keep up to date on each day's new design.
My feature day was September 7 so my pattern is no longer available for free, but you can still purchase it for a low cost below. You also have the chance to purchase my pattern along with over 30 others in one special bundle rate, read on for details.
And now… scroll down to learn about my feature pattern!
Download the Cozy Fireplace Amigurumi Pattern
The Cozy Fireplace Amigurumi makes a great Christmas ornament, playset toy, or home decor piece. You can almost feel the warmth of the flames! And isn't it cute?  It was a challenge to design (all the colourwork and the shaping on the flames!), but definitely worth it in the end. I wanted to create a design that fit my style of cute amigurumi, but would also be considered 'cozy home decor' fitting with the blog hop theme. The result, my Cozy Fireplace Amigurumi Pattern!
You can purchase the pattern from my Pattern Shop, Etsy, or Ravelry.
30 Days of Cozy Special Bundle Deal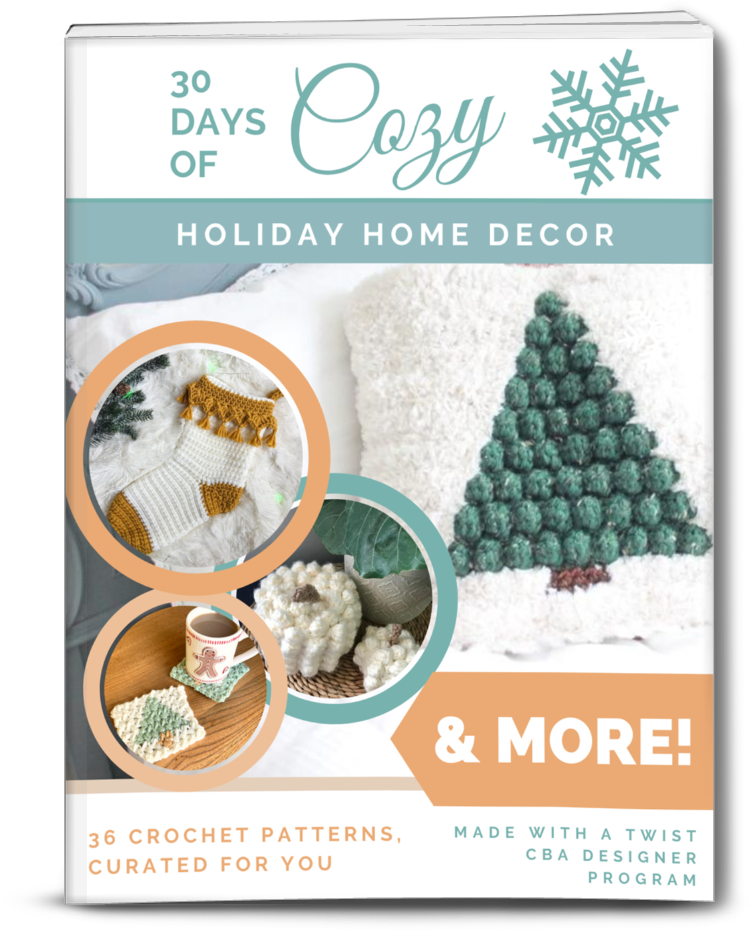 As I mentioned above, the 30 Days of Cozy blog hop includes over 30 free patterns released daily from Sept 1 to Sept 30. But I know you're thinking… we're already over a week in (as I write this) which means you've missed a bunch of great patterns already! Not only that, but you don't want to wait to get the rest of the patterns… and that's where my next piece of good news in!

Because we know you're busy and might not want to check back for each new design, you can get the entire bundle of 30+ crochet patterns TODAY in
The 30 Days of Cozy Pattern Bundle
.
This fabulous bundle is a collection of all 36 crochet patterns from some of your favorite bloggers and designers and it's on sale for a limited time for just $18! That's 87% off the retail price and a value of over $140 in beautiful, cozy, patterns perfect for selling, gifting or treating yourself. 
CHECK OUT ALL THE AMAZING DESIGNS TO BE RELEASED DURING THIS EVENT AND, DON'T WAIT, DOWNLOAD YOUR BUNDLE TO START MAKING YOUR FAVORITES TODAY!  
Finally, before you go, don't miss out on the MEGA Yarn Giveaway where you can enter for your chance to win over $200 USD in yarn!