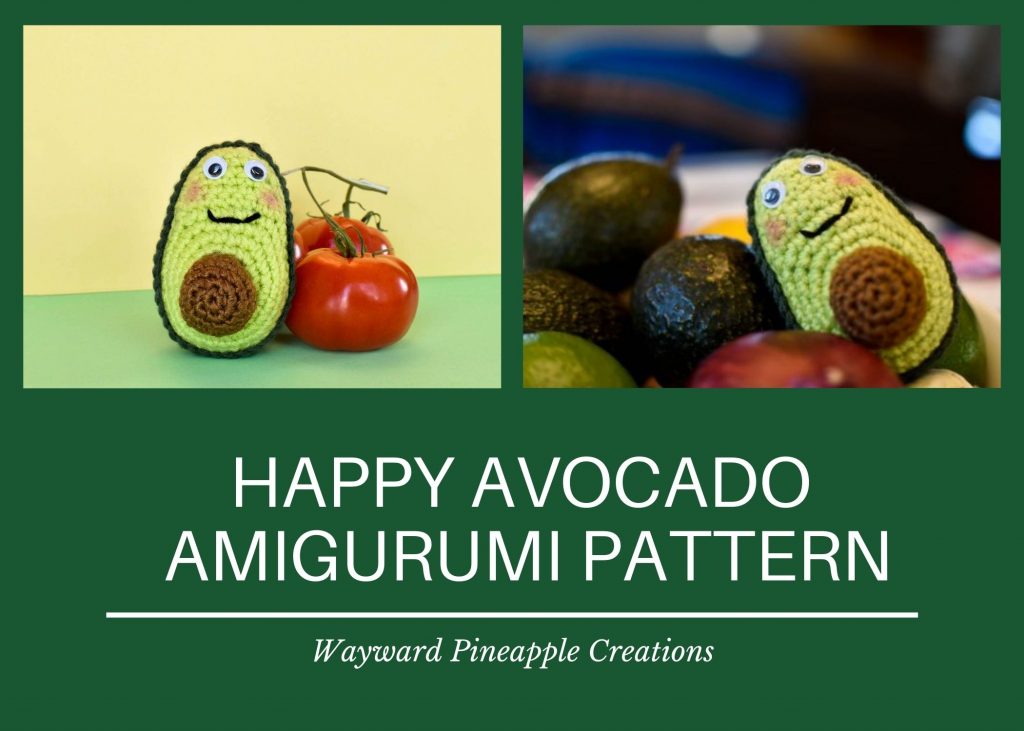 Affiliate Links Disclaimer:  This blog post contains affiliate links and I make a small commission off any purchase you make when you click on them.
Meet the Happy Avocado! He is the happiest of all the avocados because he knows that, unlike his fellow avocados he will never be cut open, tossed in a blender, and turned into guacamole… yes, life is good for a crochet avocado!
I actually first designed the Happy Avocado a few years ago, during a very short lived project to crochet food from A-Z. I made it halfway through a carrot. Maybe one day I'll get further down the list, but for now I have an avocado! There is a slightly wonky banana too, which I may release one day if I can figure out how to make him… less wonky.
The Happy Avocado is easy to make and would make a fun addition to a child's kitchen play set. Or put him in a bowl with your real avocados like I did, and let him watch as his friends get chopped into pieces and eaten.
…was that too dark?
Read on to find a list of supplies and techniques needed to make the Happy Avocado Amigurumi, plus links to my Pattern shops where you can purchase the pattern.
Worsted weight yarn (Red Heart Super Saver or similar): Hunter Green, Tea Leaf, brown – for the light green I actually used another brand that had a lighter, more lime-coloured green, but I don't remember what it was. If you're using Red Heart, then Tea Leaf could work, but it's a different shade from my photos above.
Size F / 3.75mm crochet hook – I recommend the ergonomic Clover Amour hooks
Two 10mm googly eyes
Pink blush & a Q-tip or small makeup brush
Scissors & pins
Stitch marker – I recommend locking stitch markers
Craft glue
All details below are based on US crochet terms.
Mc: Magic Circle
Ch: Chain
Sl: Slip Stitch
Inc: Increase
Dec: Decrease – I recommend using the Invisible Decrease
FLO: Crochet in front loop only
Invisible Finish (recommended)
Download the Happy Avocado Amigurumi Pattern
My Happy Avocado Amigurumi Pattern is available for purchase on my website pattern shop, Ravelry, and Etsy. This premium crochet pattern PDF has been tested and includes 9 pages of pictures and detailed instructions to make your very own Happy Avocado Amigurumi toy.
Benefits Include:
9 pages of photos and detailed instructions to make and assemble your avocado
Ad-free & professionally formatted PDF of the pattern instructions
Available offline & perfect for printing or downloading to your mobile devices
In addition to the benefits above, your support will be greatly appreciated and will help me to continue designing and offering patterns to you!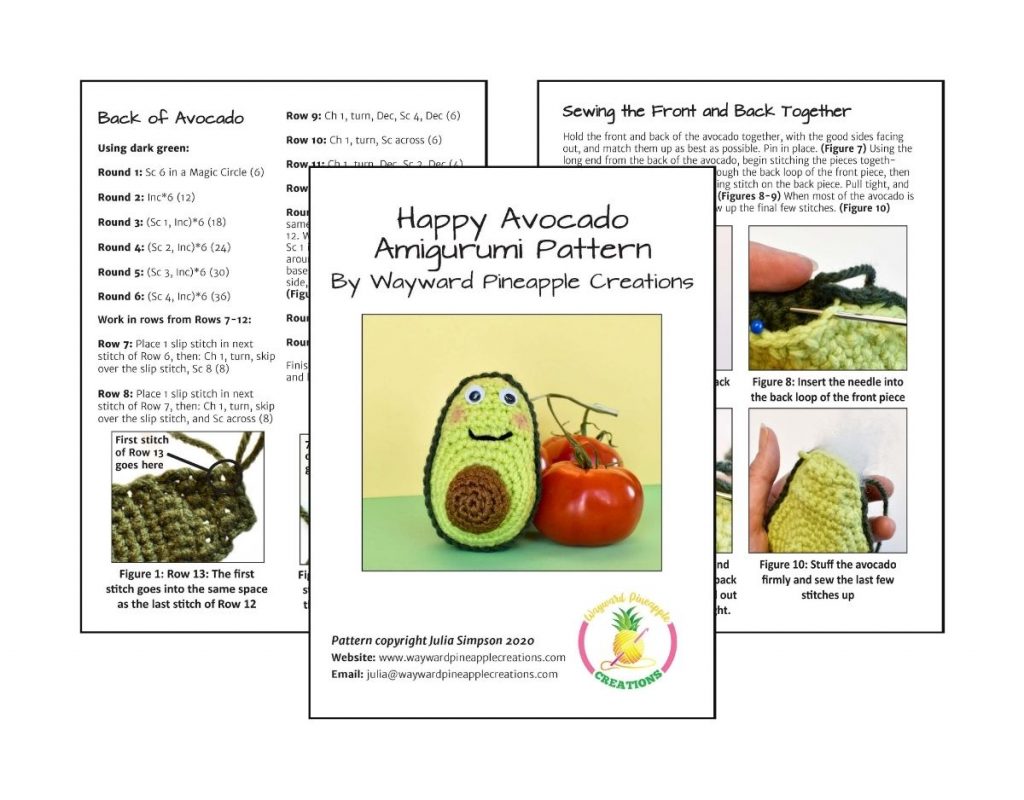 I hope you enjoy this pattern, and if you have any questions please don't hesitate to comment below or email me.
And if you made your own Happy Avocado I would love to see a picture on Instagram! Make sure to tag me so I don't miss it, @waywardpineapplecreations.
© Wayward Pineapple Creations | Julia Simpson  This pattern and all related images are copyright protected. You may sell items made from my patterns, but please do not copy/paste, distribute, or alter the pattern and claim it as your own.