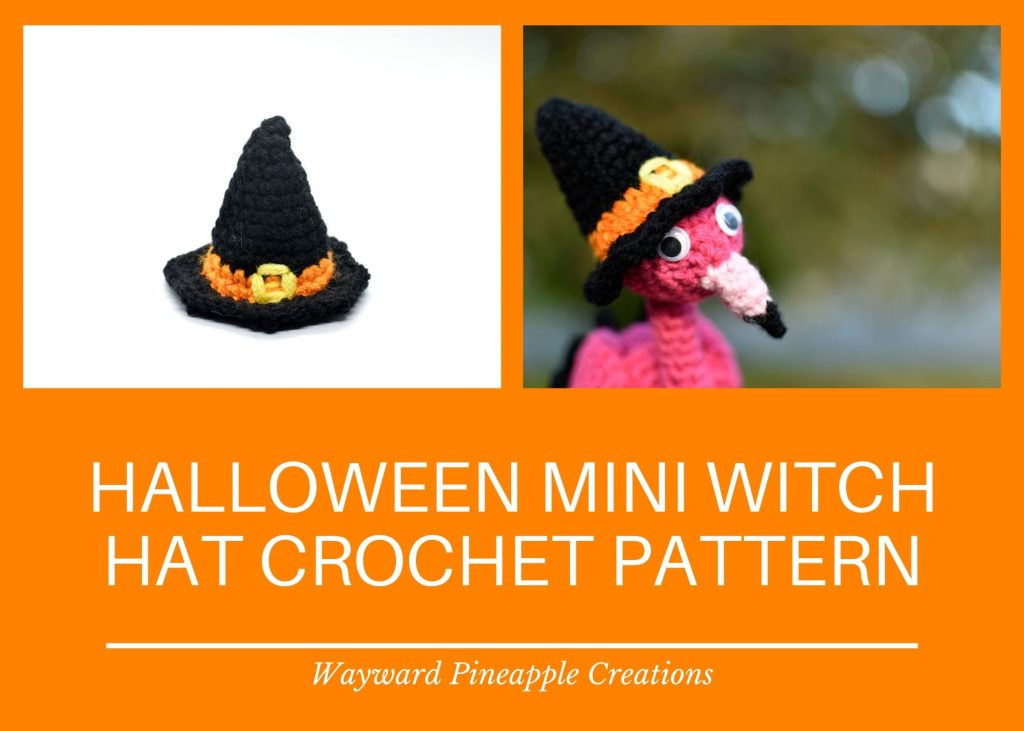 What does this mean for Wayward Pineapple Creations? Well, I'm taking a few months off from having a day job and am planning to work hard to develop my hobby into a real business. I want to design and add a bunch of new patterns to my Etsy Store, overhaul my website, learn how to properly market my work, and develop more exciting content for you folks, my followers! I also have exciting plans to write a children's book, which I'm going to illustrate with my crochet – stay tuned!
Anyway, as Halloween is nearly upon us I wanted to celebrate by offering up my newly-designed mini witch's hat crochet pattern for free. This hat is perfect to add a witchy flair to one of your dolls, or you could sew it to a headband and make it a super cute Halloween fascinator. The possibilities are endless! Check out Feather the Flamingo strutting her stuff in her stylish witch's hat. 🙂
Join my newsletter and receive your FREE guide to the Five Essential Amigurumi Techniques!
Halloween Mini Witch Hat Crochet Pattern
This mini witch hat works up quickly and easily. Add a festive flair to one of your dolls, create a Halloween-themed fascinator, or make an army of hats to celebrate the spookiest season!
The flamingo model in the above photos is my Feather the Flamingo doll – check out more details in my blog post here, including links to purchase the pattern!
2.5″ x 2.5″
Circumference is approx. 5″ around at the base (not counting the brim)
All details below are based on US crochet terms.
Mc: Magic Circle
Sc: Single Crochet
Inc: Increase
3Inc: Work 3 stitches into the increase instead of 2 stitches
Dec: Decrease – I recommend the Invisible Decrease
FLO: Crochet in the front loop only
The hat is made in one piece, starting from the tip. Work in continuous rounds, using a stitch marker.
When reading the pattern, (_,_)*x means that you repeat the instructions in the bracket "x" number of times. For example, (Sc 1, Inc)*6 means to repeat (Sc 1, Inc) 6 times. The number in brackets at the end of each row is the total number of stitches you will have when you finish that row.
Leave a long tail at the beginning. Once you are done, you will use it to sew the tip of the hat at an angle.
Using black:
Round 1: Sc 3 in a Magic Circle
Round 2: Sc 2, Inc (4)
Round 3: (Sc, Inc)*2 (6)
Round 4: (Sc, Inc)*3 (9)
Round 5: (Sc 2, Inc)*3 (12)
Round 6: (Sc 3, Inc)*3 (15)
Rounds 7-8: Sc around (15)
Round 9: (Sc 4, Inc)*3 (18)
Round 10: Sc around (18)
Switch to orange:
Round 11: (Sc 5, Inc)*3 (21)
Round 12: (Sc 6, Inc)*3 (24)
Switch to black:

Round 13: FLO – (Sc 2, Inc)*8 (32)
Round 14: (Sc 3, 3Inc)*8 (48)
Finish off, leaving a long end if you plan to sew the hat onto something (such as a doll). Cut a length of yellow yarn and embroider on the buckle. I pass the yarn over each line twice so it's thick enough.
Finally, use the tail from the beginning of the hat to pull the tip down so it's at an angle. Secure with a couple of stitches. Weave in all ends and you're done!
I hope you enjoy this pattern, and if you have any questions please don't hesitate to comment below or email me.
And if you made your own witch hat I would love to see a picture on Instagram! Make sure to tag me so I don't miss it, @waywardpineapplecreations.
© Wayward Pineapple Creations | Julia Simpson  This pattern and all related images are copyright protected. You may sell items made from my patterns, but please do not copy/paste, distribute, or alter the pattern and claim it as your own.