Affiliate Links Disclaimer:  This blog post contains affiliate links and I make a small commission off any purchase you make when you click on them.

This Harry Potter baby blanket is perfect for the budding witch or wizard in your life! Tucked snugly under this blanket every night, your little one will be ready for Hogwarts in no time.
Read on for more information on my Harry Potter crochet baby blanket, the charts JPG format, and instructions on how to read the charts and construct the blanket. Or click here to skip straight to the charts!
All details below are based on US crochet terms. I made the blanket charts based on crochet, but it works well for knitting too.
Worsted weight yarn (Red Heart Super Saver yarn or similar) in the following colours:
Size H / 5.00mm crochet hook – I highly recommend the ergonomic Clover Amour hooks
Scissors
Quilt fabric for backing (black, or whatever you prefer)
Sewing machine to sew on the quilt fabric (or do it by hand if you don't have a sewing machine)
Notes on Gauge and Finished Dimensions
Finished dimensions of blanket: Approx. 1 metre by 1 metre, and slightly taller than it is wide.
The gauge doesn't matter other than the fact that a tighter gauge will make a slightly smaller blanket, and vice versa.
How to Assemble and Read the Chart
There are four separate chart files, which each needs to be printed and taped together to make one large chart. You will work from right to left and bottom to top, not counting the chain. Each chart is 65 pixels (stitches) across and 70 up, so when taped together the total chart is 130 stitches across and 140 rows tall.
Start by chaining 131 in black, then the first stitch of the first row is the first pixel in the bottom right corner of the chart. One pixel corresponds to one single crochet. For the odd rows you'll be working from the front, and for the even rows you'll flip it and be working from the back. Make sure the ends are always hanging to the back/wrong side of the blanket – so sometimes they will be facing you, and other times they will be on the other side from you.
I subdivided each chart into 5×5 boxes since it helps me count my stitches. I like to make a little mark beside each row so I know which direction I'm going, and I cross off/scribble out each row in sharpie as I finish them. Like this: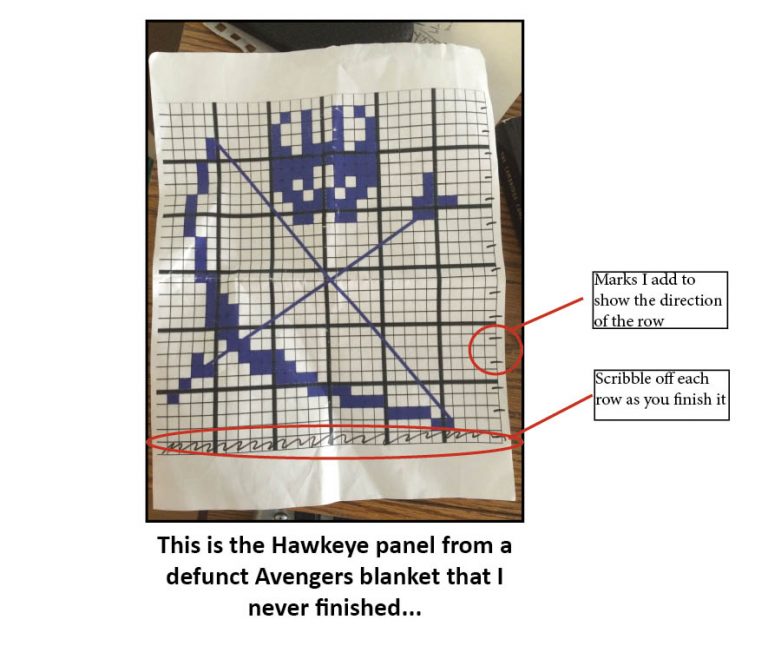 There are various techniques for changing colours, so it really just depends on your preference and whether or not you care about what the back looks like. I've detailed a couple of options below, with the pros and cons of each method.
Option 1: Crochet over the second colour
It's important to crochet tightly so the unused colours don't bleed through, but personally I find they will still be visible especially when you're switching between dark and light colours. The other challenge with this blanket is there are many colours, so you will be crocheting over several strands at once! The benefit of this method is that it avoids having to weave in many ends, both the back and the front of the blanket will look clean, and the entire blanket will be a more consistent tension & weight.
Option 2: Carry the second colour behind
Personally, I don't really like Option 1 because the unused colours always bleed through a bit – or maybe I just crochet too loosely! recommend lining the blanket so it won't matter what the back looks like. I carry each colour behind as I work, or cut the yarn and pick it up later, depending on how far it would be until I needed it again.
To carry a colour behind, you do the following:
Change to the new colour, and let the old colour fall to the wrong side of the panel. The wrong side may be facing you OR facing away from you, depending on which row you're on, so be careful! If you only have 3-4 stitches until you need that colour again, just leave it hanging there and then grab it again when you need it. If it's more than that, you may want to cut the yarn. Alternatively, you can crochet a stitch over the hanging yarn every 3-4 stitches to secure it.
The downside of this method is that the back will have to be lined, you'll have more ends to weave in, and the tension of the blanket may be a bit wonky.
A final note on colour changes
Due to the nature of crochet stitches there tends to be gaps sometimes between colour changes. I just fill in the gaps after with yarn – often using the yarn ends, since I have to weave those in anyway.
Adding the Border and Blanket Backing
The blanket in the picture doesn't have a border, but I recommend adding 1-2 rows of a black border just to make the sides look clean. You could also use the house colours or gold for the border, up to you!
I also recommend backing the blanket in a quilting fabric, which will be soft and light for a baby (and at least one side of the blanket will be easy to clean!). You can hand sew the quilting on if you don't have a sewing machine, but it will be a time consuming process. If you have a machine then it's pretty quick and easy to sew the quilting to the blanket all around the edges. Just fold the edges and pin all the way around, then feed it slowly and carefully through the machine. It's a bit terrifying at first (when I did this with my Game of Thrones blanket, I was convinced that the crochet stitches would get caught in the machine and rip my beloved blanket to pieces), but just be careful and it will be fine.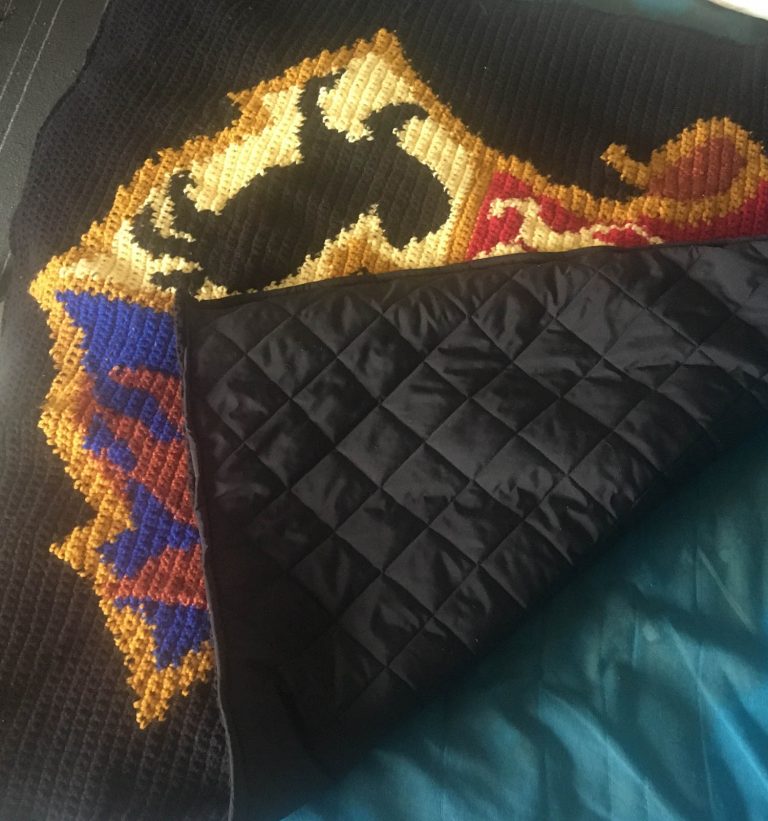 Join my newsletter and receive your FREE guide to the Five Essential Amigurumi Techniques!
Harry Potter Baby Blanket Charts
Click on the picture or caption to download the charts. Print each one, trim the white off where needed, then tape carefully together so make one big chart. The background is in black, but I've left it white so you don't have to print out all that black!
I hope you enjoy this pattern, and if you have any questions please don't hesitate to comment below or email me.
And if you made your own Harry Potter baby blanket I would love to see a picture on Instagram! Make sure to tag me so I don't miss it, @waywardpineapplecreations.
© Wayward Pineapple Creations | Julia Simpson  This pattern and all related images are copyright protected. You may sell items made from my patterns, but please do not copy/paste, distribute, or alter the pattern and claim it as your own.