Affiliate Links Disclaimer:  This blog post contains affiliate links and I make a small commission off any purchase you make when you click on them.
Winter is coming! Cozy up under this Game of Thrones house sigil crochet blanket for your next binge watch of the show, or re-read of the books. 11 charts are included in the pattern: Stark, Lannister, Baratheon, Targaryen, Greyjoy, Tully, Tyrell, Martell, 2 versions of Arryn, and a bonus Mormont chart!
Read on for more information on my Game of Thrones crochet  blanket, the charts in PDF and JPG formats, and instructions on how to read the charts and construct the blanket. Or click here to skip straight to the charts!
The Story of My Game of Thrones Crochet Blanket
I still maintain that this blanket happened by accident, and also that it's my friend Sam's fault. One sunny weekend in May 2013, my local Vancouver nerd Meetup Group/nerd family had a 'Nerds in Public' crafting event at Queen Elizabeth Park. I had just fallen hard in love with Game of Thrones, and I wanted to make something GoT related. I didn't feel like making dolls (yet), though, and I couldn't decide what I wanted. So on the way to the event, I mused to myself on the bus and offhandedly thought: "Wow, a blanket with a bunch of house Sigils would be cool! Haha yeah right, that would way too much work." I arrived at the event and told my friend Sam my idea while we waited for everyone else. She was, of course, supposed to say:  "That's insane, what's wrong with you?!"
Instead she said: "Oh my god you HAVE to make that!"
Dammit.
On my way home that day I found myself considering the idea more closely, although I was still firmly in the camp of "I'm definitely not making this". But hypothetically… Which houses would I include? And in what order would I arrange them? Two houses with black backgrounds couldn't be next to each other, but neither could red (Martell) and green (Tyrell) because they would look too Christmas-y. And thematically speaking, which houses should be next to each other? Stark should be on the top, and I wanted Lannister next to Stark, and I figured Baratheon should be on that top row with therm. I decided to give Targaryen a place of pride in the centre of the blanket. But beyond that… There was so much to think about! Especially for a blanket I absolutely, definitely, was not making.
Fast-forward to my next shopping trip to Michaels. I figured I might as well pick up some more black yarn, and some off-white as well, in case I wanted to try out a Stark panel. Just to see how it would look, you understand, as a matter of simple scientific curiousity. And then, of course, I had to make the pattern. Cue a few hours of trying to figure out how to turn a picture into a crochet graph.
My first attempt was too small. Way too small.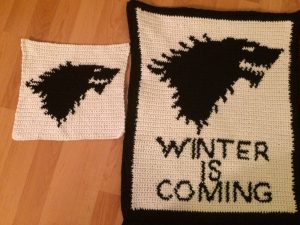 Not only that, but with so few squares per graph there was no way that the Targaryen sigil was going to be detailed enough to look good. So back to the drawing board, where I more than doubled the size of the graph and decided to add the words. Just to, you know, make things more complicated for myself. For the blanket I was in no way, shape, or form, planning to make.
One year later I had a blanket.
It's super heavy because I lined the back with fleece to hide all my colour changes, far warmer than I need in my apartment, and both too small for my bed and too big for my couch. And I don't care because I love it. 🙂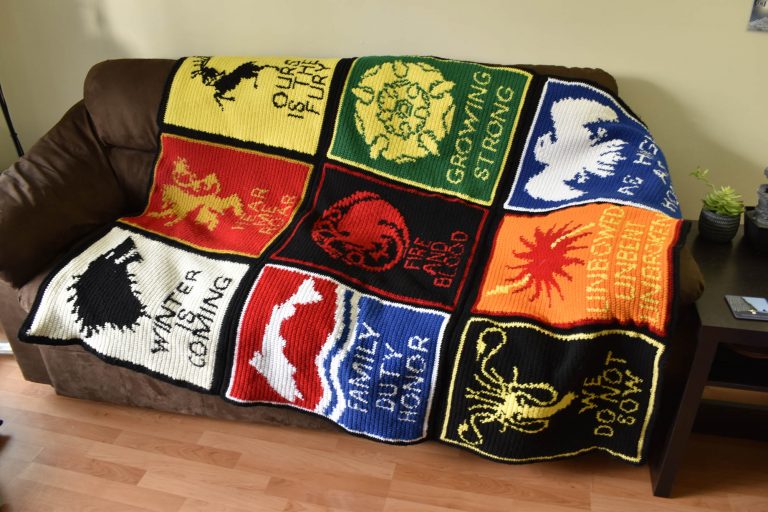 My Game of Thrones Blanket on the Move!
In the years since I first completed my Game of Thrones blanket, it's gotten around a bit! The blanket has been my faithful backdrop to my Artist Alley booth at multiple FanExpo Vancouver conventions, where I display it using this nifty wooden structure my friend Peter made for me.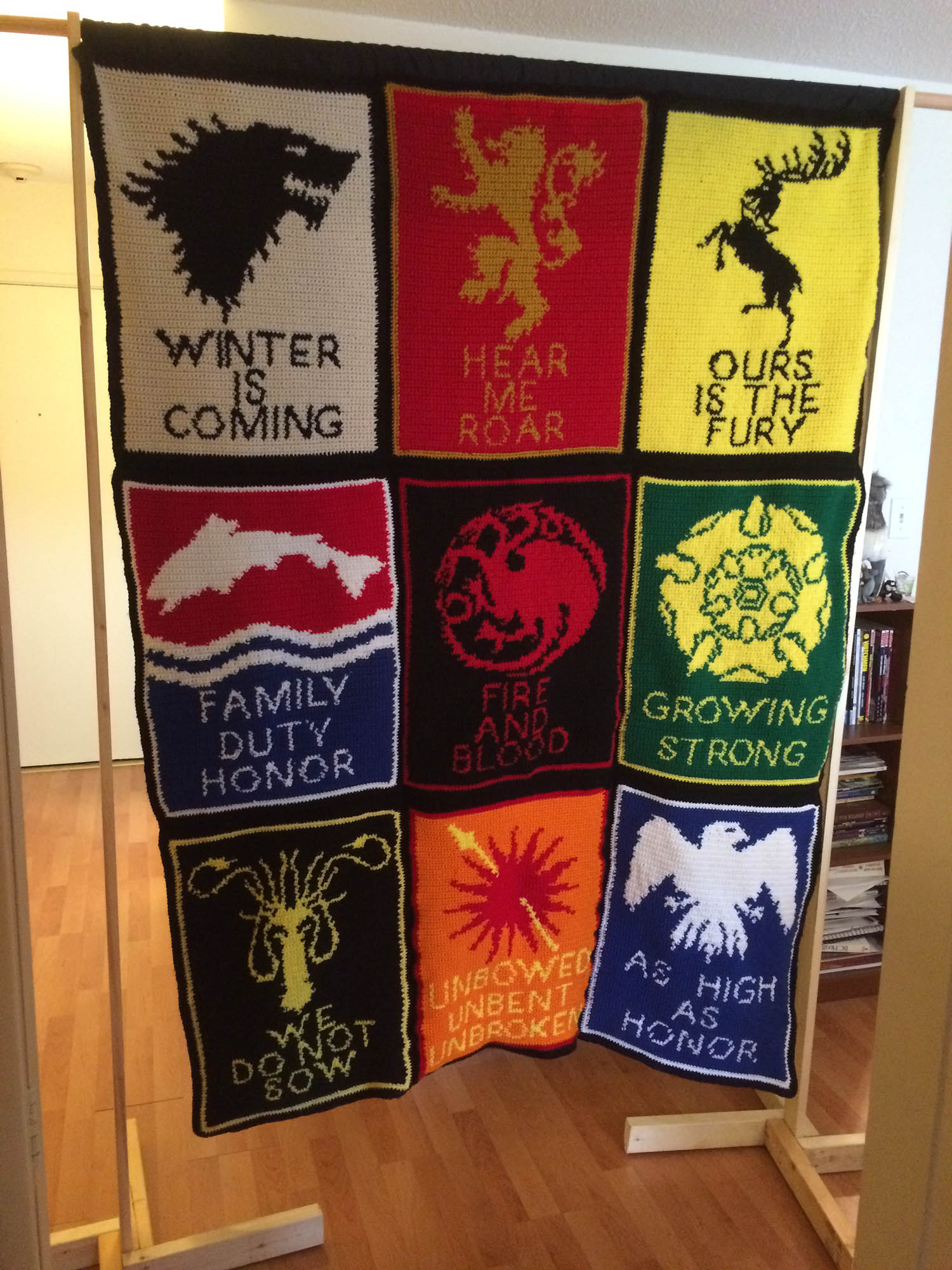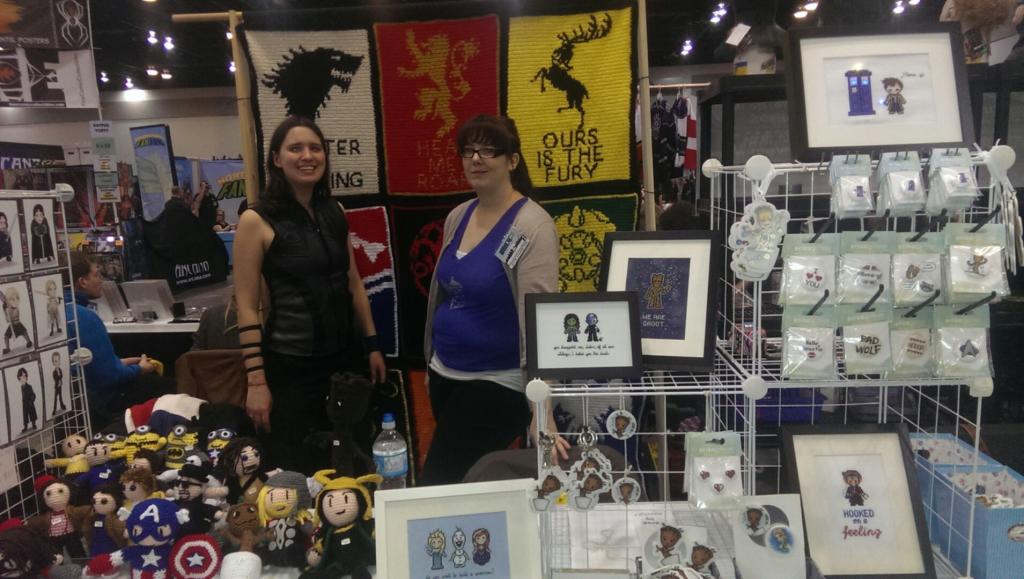 And then in 2015, my blanket made its stage debut in We Know Nothing: Monologues of Ice and Fire, a Vancouver-produced comedy show (spoiler alert: it played the role of The Blanket). My blanket got to hang out on stage for the entire show, draped over the chair that seated 'George RR Martin'. Well the actor playing him, at any rate – I can only dream that one day the real one would sit on it! I took a few pictures after the show of me with my Jon & Daenerys dolls sitting in the chair, plus there are some official photos below of 'George' in the chair.
Game of Thrones Crochet Blanket Pattern
Notes on Gauge & Finished Dimensions
Each panel chart is 90 x 65 pixels (one pixel = single crochet) and each finished panel measures approx. 23" x 19" after the border is added.
Finished dimensions of blanket:
Approx 6' x 5'
Gauge doesn't strictly matter, but make sure to keep the tension of each panel consistent so they turn out the same size. I recommend blocking each panel as you finish them.
Each chart is working from right to left and bottom to top, not counting the chain. There are 65 pixels (stitches) across, and 90 up. Start by chaining 66 of the first row's colour, then the first stitch of the first row is the first pixel in the bottom right corner of the chart. One pixel corresponds to one single crochet. For the odd rows you'll be working from the front, and for the even rows you'll flip it and be working from the back. Make sure the ends are always hanging to the back/wrong side of the blanket – so sometimes they will be facing you, and other times they will be on the other side from you.
I subdivided each chart into 5×5 boxes since it helps me count my stitches. I like to make a little mark beside each row so I know which direction I'm going, and I cross off/scribble out each row in sharpie as I finish them. Like this: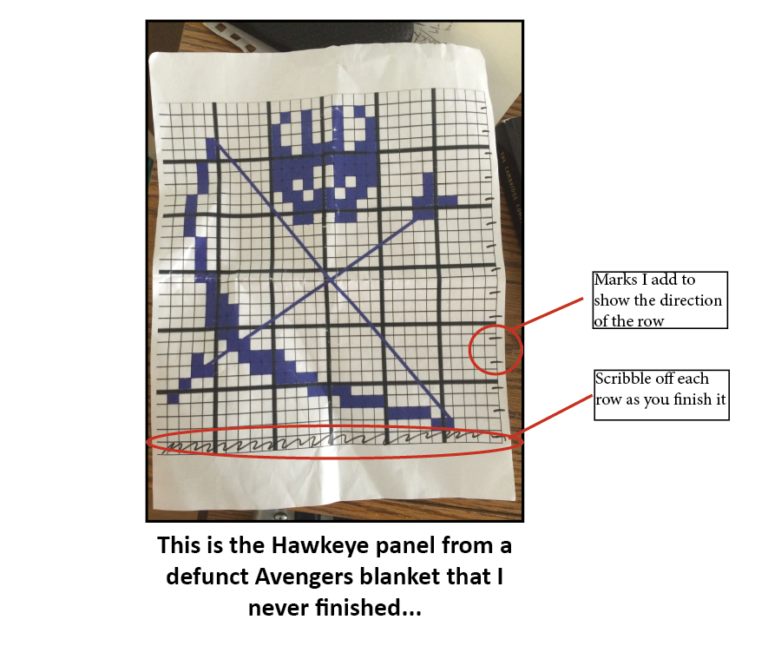 There are various techniques for changing colours, so it really just depends on your preference and whether or not you care about what the back looks like. I've detailed a couple of options below, with the pros and cons of each method.
Option 1: Crochet over the second colour
It's important to crochet tightly so the second colour doesn't bleed through, but personally I find it will still be visible especially when you're switching between a dark and a light colour. The benefit of this method is that it avoids having to weave in many ends, both the back and the front of the blanket will look clean, and the entire blanket will be a consistent tension & weight (as long as you begin carrying the second colour behind at the start of each panel, so the entire panel will have 2 strands of yarn).
Option 2: Carry the second colour behind
Personally, I don't really like Option 1 because the second colour always bleeds through a bit – or maybe I just crochet too loosely! Also, I decided to line mine in fleece so the back could look as terrible as I wanted. Therefore I carried each colour behind as I worked, or cut the yarn and picked it up later, depending on how far it would be until I needed it again.
To carry a colour behind, you do the following:
Change to the new colour, and let the old colour fall to the wrong side of the panel. The wrong side may be facing you OR facing away from you, depending on which row you're on, so be careful! If you only have 3-4 stitches until you need that colour again, just leave it hanging there and then grab it again when you need it. If it's more than that, you may want to cut the yarn. Alternatively, you can crochet a stitch over the hanging yarn every 3-4 stitches to secure it.
The downside of this method is that the back will have to be lined, you'll have more ends to weave in, and the tension of each panel may be wonky. I ended up with some panels slightly larger than others, which made sewing them together challenging.
A final note on colour changes
Due to the nature of crochet stitches there tends to be gaps sometimes between colour changes, which can be an issue in particular with the words (it'll make parts of the letters look like they're not attached to other parts). I just filled in the gaps after with yarn – often using the yarn ends, since I had to weave those in anyway.
I added a border of two rows to each panel using single crochet. The first row I did in the contrasting colour for that panel (ie. for Lannister I used gold – see below), and the second row I did in black. Some panels, such as Stark and Baratheon, will have two black rows, since the contrasting colour is black.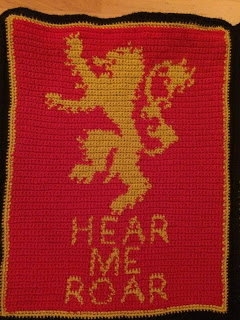 Once you've finished all 9 panels, it's time to assemble the blanket! I decided to crochet them together, and found a tutorial online with different options. For example, this tutorial has several methods you can use:
http://www.woolcrafting.com/crochet-seams.html

You may also decide to back the blanket once it is done. I used black fleece and sewed all around the edges of the blanket and along the borders between each panel with my sewing machine. It's a challenge because the fabric + yarn will be thick, but go slow and it will be ok!
Join my newsletter and receive your FREE guide to the Five Essential Amigurumi Techniques!
Game of Thrones Crochet Blanket Charts
Each chart is included below in PDF and JPF formats.

I have included two versions of House Arryn. The first is the one I used in my original blanket, based on an version of their house sigil that I'd found online. The second is the screen accurate version.

Finally, I have also included a BONUS chart for House Mormont, that you can use in lieu of one of the 9 main houses. Or just make a separate panel to hang on your wall to honour the amazing badass warrior that is Lyanna Mormont!
Below are the bonus charts I created House Mormont and for a screen-accurate version of House Arryn.
Game of Thrones Crochet Blanket Gallery
Several people have sent over pictures of their blankets, and it's always so rewarding for me to see them. <3 Check out my blanket gallery below, and if you'd like to have yours added please send it on over!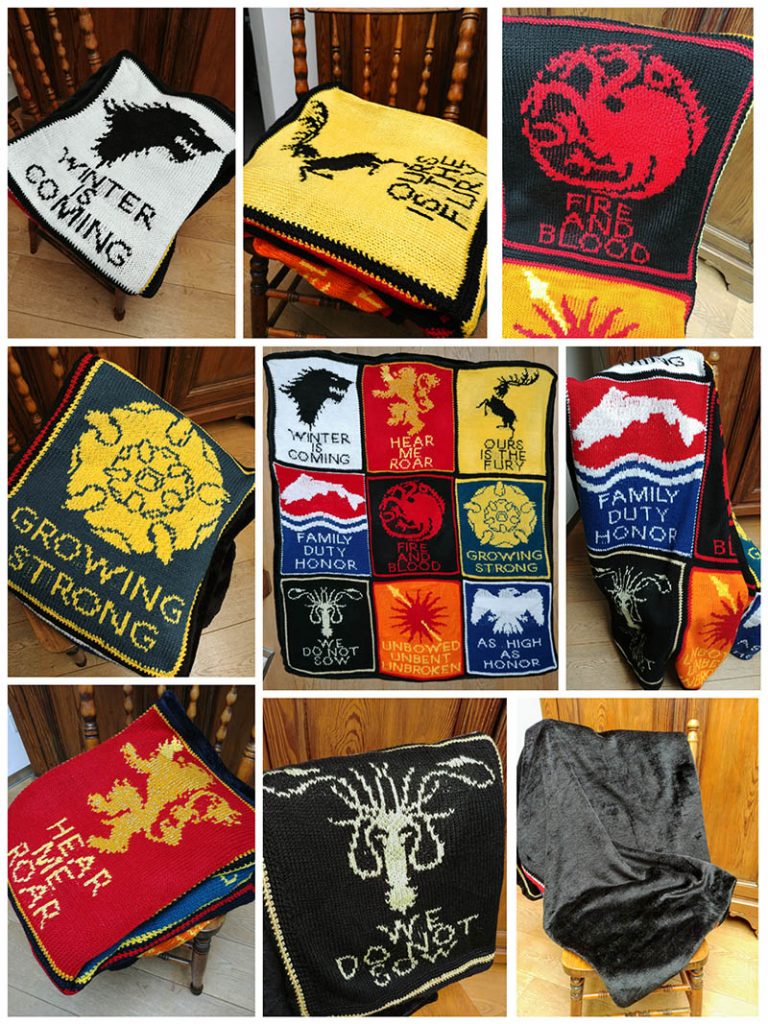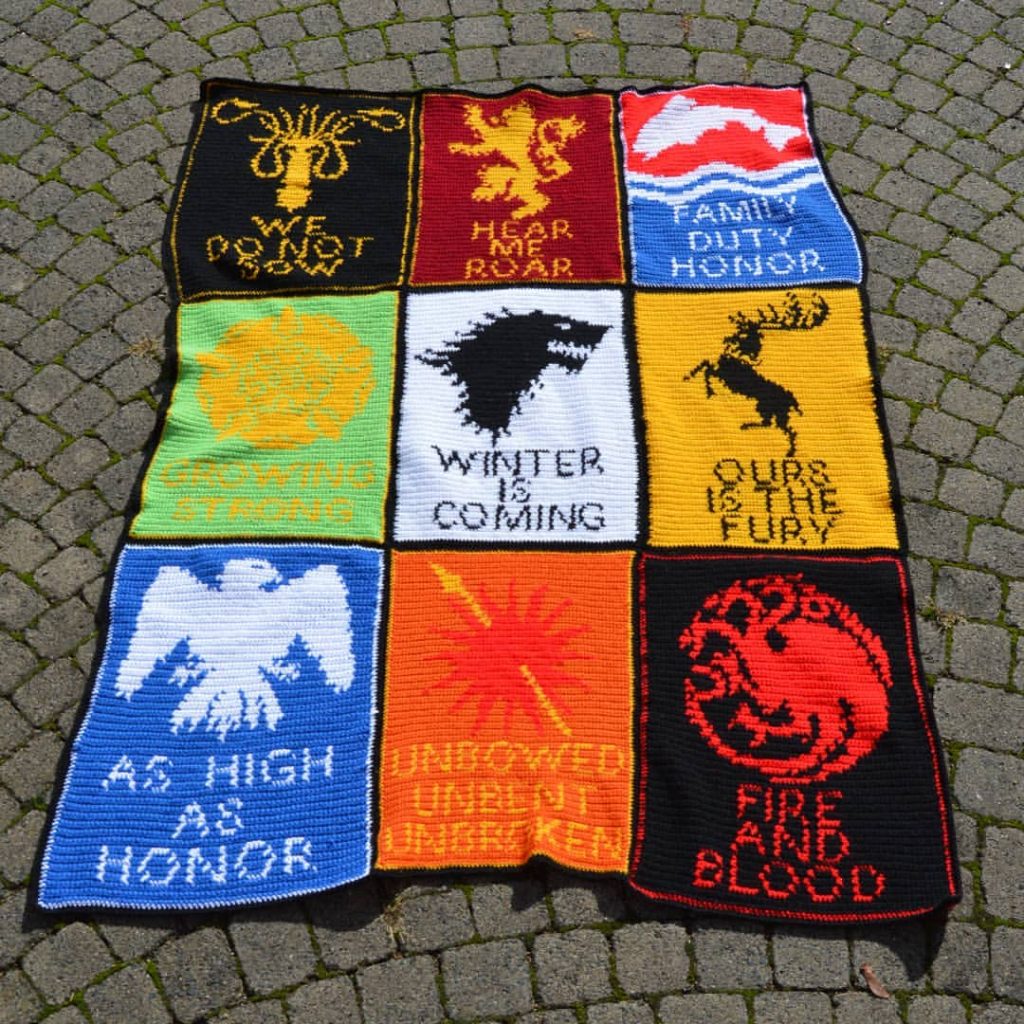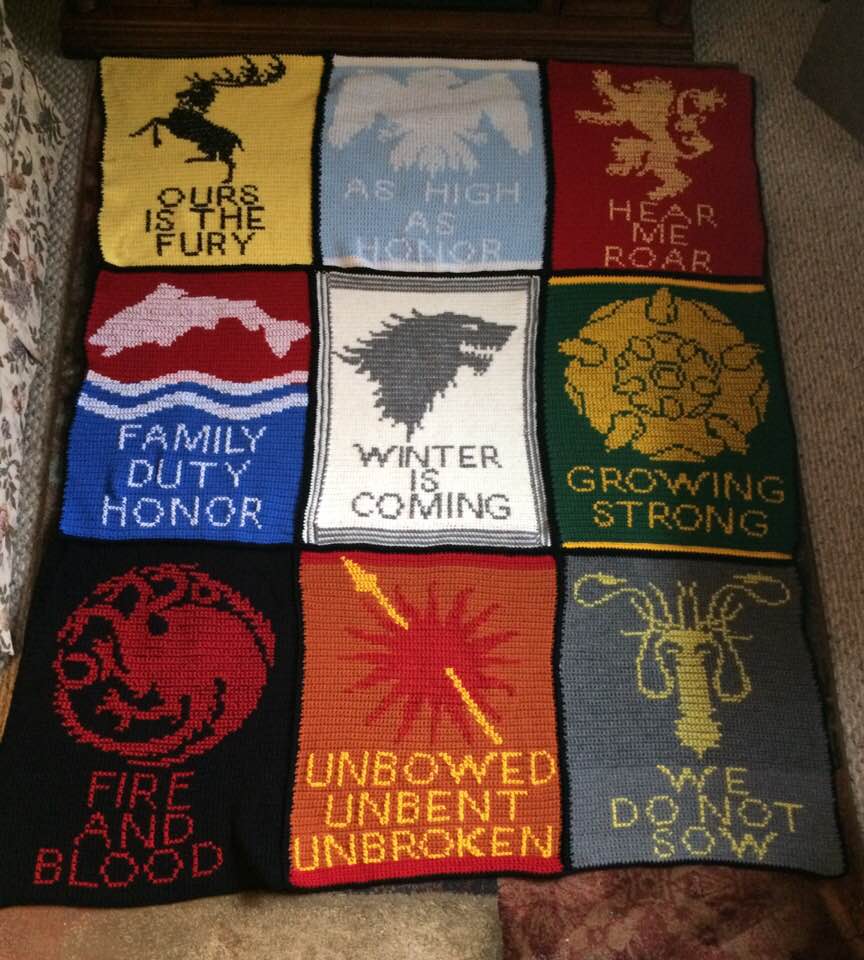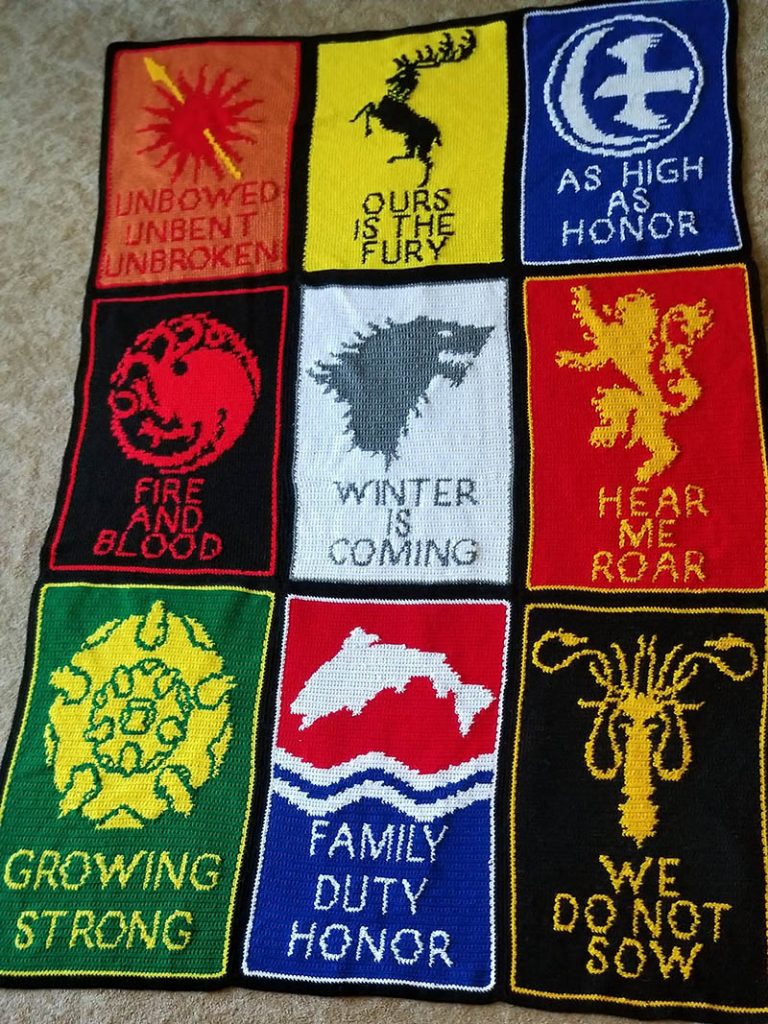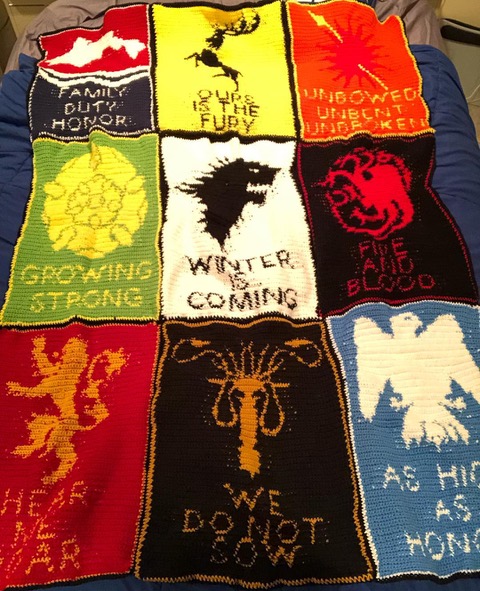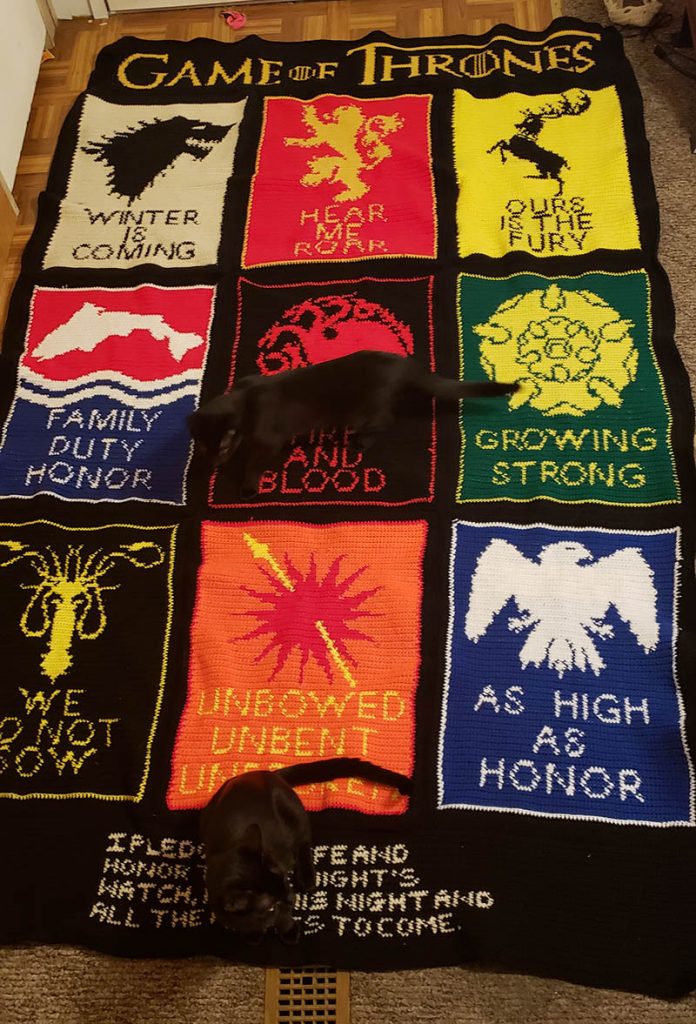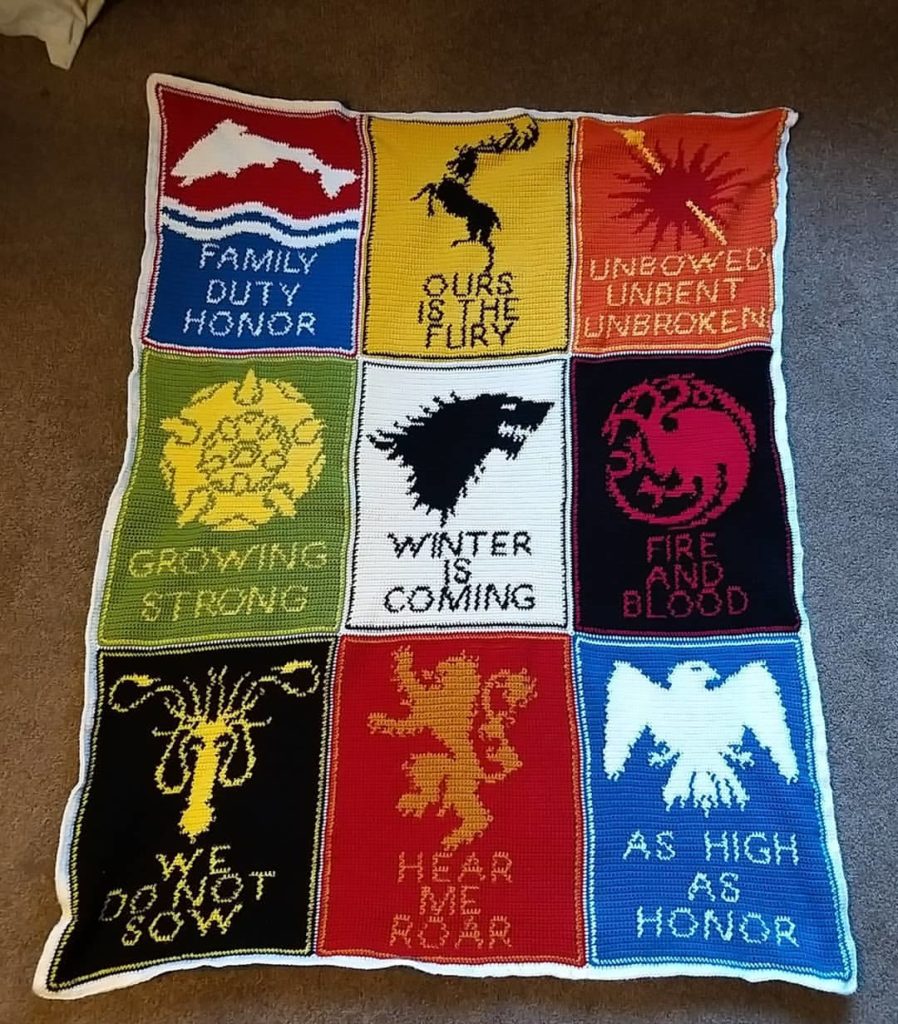 I hope you enjoy this pattern, and if you have any questions please don't hesitate to comment below or email me.
And if you made your own Game of Thrones blanket I would love to see a picture on Instagram! Make sure to tag me so I don't miss it, @waywardpineapplecreations.

© Wayward Pineapple Creations | Julia Simpson  This pattern and all related images are copyright protected. You may sell items made from my patterns, but please do not copy/paste, distribute, or alter the pattern and claim it as your own.