Hi everyone! I'm finally going back and writing up some of my pending Baby Groot Around Vancouver posts that I've been meaning to do for awhile. Today's post is Baby Groot's first trip out of the Lower Mainland – to Naramata in the Okanagan Valley last September. Come and join Baby Groot as he goes to the beach, picks apples, and indulges in some wine tasting!
The Okanagan Valley is located is the interior of British Columbia, roughly half way to Alberta and at the south end of the province. The region is known for its hot and dry climate, and is a popular getaway spot for locals in the summer. Kelowna is the biggest city in the area, but we headed instead to the small town of Naramata, located at the south end of Lake Okanagan.
So, what is there to do in the Okanagan, you ask? There are lots of outdoor activities such as hiking, biking, and swimming in Lake Okanagan, but our main goal was the wine! The Okanagan Valley is well known for its fruit trees and vineyards, and you can't drive two minutes along the 'Naramata Bench' without tripping over another winery. The honest truth is I don't actually drink wine, but my friends do and I enjoyed coming along for the ride (and taking a lot of pictures of Baby Groot with wine grapes). I did try a tiny bit, too – the fruit wines weren't bad, but I'm still not a big fan. Plus it was fun watching my friends steadily get drunker throughout the day. 😉
We headed out of Vancouver after work on Friday September 4th, and immediately hit about 2 hours worth of gridlock. Trying to get out of Vancouver at the start of the last long weekend in summer? Not the greatest idea, but we didn't have much choice. Normally a 4 hour drive, it ended up being more like 6 and we got in after midnight.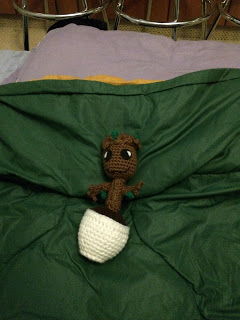 Baby Groot was tired after the long drive. Time for bed!
Saturday morning we headed to the weekend farmer's market in Penticton, the main town 15 or so minutes from Naramata. It was huge! So many booths with fresh produce, yummy looking baked goods, crafts, clothing… lots to look at, and hard to resist the urge to buy All The Things.
And then it was on to wine tastings! I'm pretty useless on a wine tour given that I don't drink, and I don't drive so I can't even be the designated driver, but I came along anyway to hang out, take Groot pictures, and enjoy the scenery.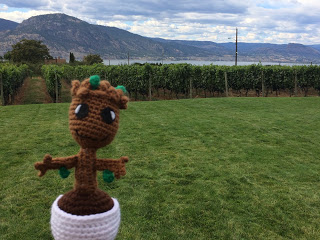 Pretty vineyard scenery!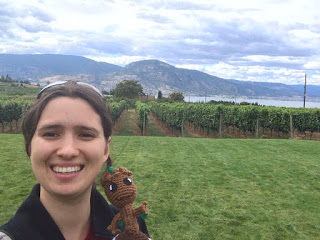 Selfie time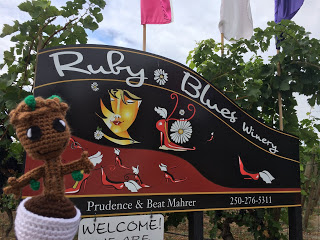 This place had a neat shop that kept me amused while the others did their tasting – they have a bunch of red heel related merchandise, including actual shoes!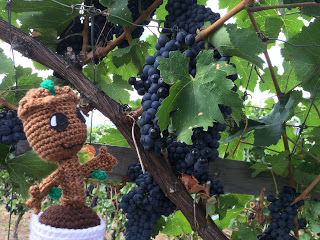 Groot found some grapes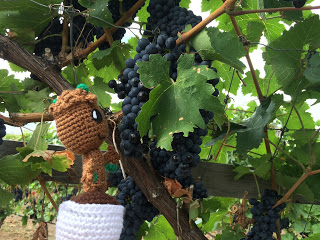 Groot likes the grapes. 🙂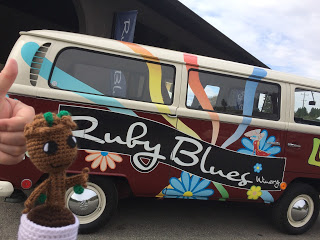 Thumbs up for Ruby Blues Winery, if only for their cool shop and bus!
We spent the rest of the afternoon and evening just hanging out, eating, and drinking wine. Well, they were drinking, I was watching with amusement as they got increasingly drunk by the end of the night. My friends Andrea and Amanda do a weekly Buffy the Vampire Slayer podcast called 'Tiny Fences', and at approximately 11pm they decided it would be an awesome idea to record an episode. I might have encouraged them. 😉 I definitely recommend checking out their podcast, and if you enjoy it you can sign up to be a Patreon – and gain access to "Tipsy Fences! A Buffy Podcast". It's 5-10 minutes of ridiculousness.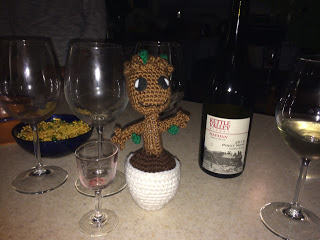 Baby Groot got a little drunk too…
The next day was beach day on Lake Okanagan. By early September it was already getting a bit chilly and the water was freezing so I didn't last long, but it was still lots of fun.
Monday came and it was time to head home… but first, we picked a ton of apples, plums, and pears from our friend's orchard – fresh fruit right off the tree, so good! Groot helped too, of course.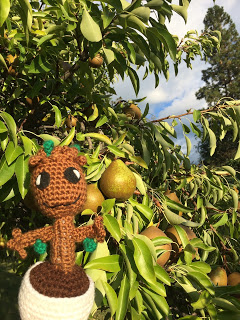 Groot found pears!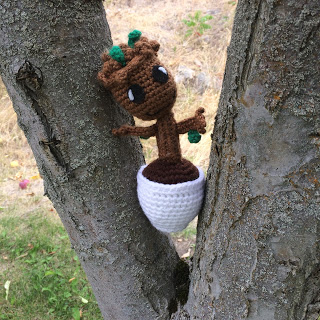 Climbing the tree to get at the apples, Groot got a bit stuck.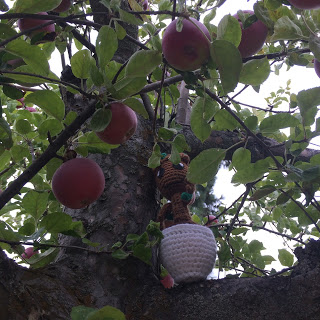 He made it! But he can't reach the apples, poor guy. His arms are just too short.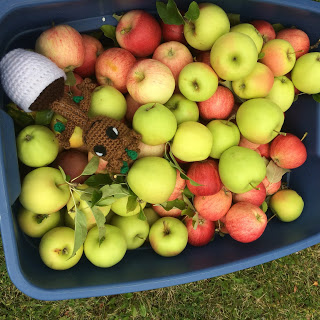 That was a lot of effort, time for a nap now.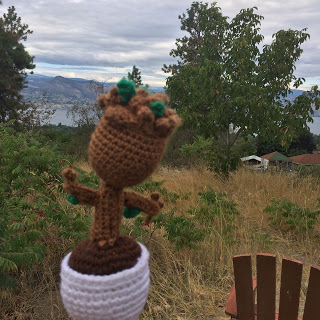 Saying goodbye to Naramata
And that's it from me for today. Next up, my Nova Scotia trip from September as I try to get caught up on my backlog. And coming very soon – New Zealand! I take off in just under a week and am getting very excited. I plan to bring white, orange, and grey yarn and churn out BB-8s while I'm there. 🙂 And many, many Groot photos will be coming. Groot is heading to Middle Earth!