Sorry to everyone for the long delay between posts! I'm making a pact with myself to post once a week from now on, and will try to start building this blog more. My only excuse is that I've been hard at work making lots of dolls for FanExpo Vancouver in November! To that end, I'm going to start sharing pictures (and eventually patterns in some cases) for the dolls that I'll be selling at the convention. If you're going to be in town, come check out our booth. We'll post more details & our booth number closer to the event once we have that information. Erika's been working hard too, making lots of awesome and adorable cross stitch buttons for the event (hint: some of them may involve a certain little orange & white droid…).
First up, I want to begin sharing my newest creations: Pocket Dolls. These little guys are now taking over my life and will feature heavily at our booth, because they are both quick(ish) to make and cute. Today I'm sharing the story of how they began and posting pictures of my first three – Captain America, Bucky, and Iron Man.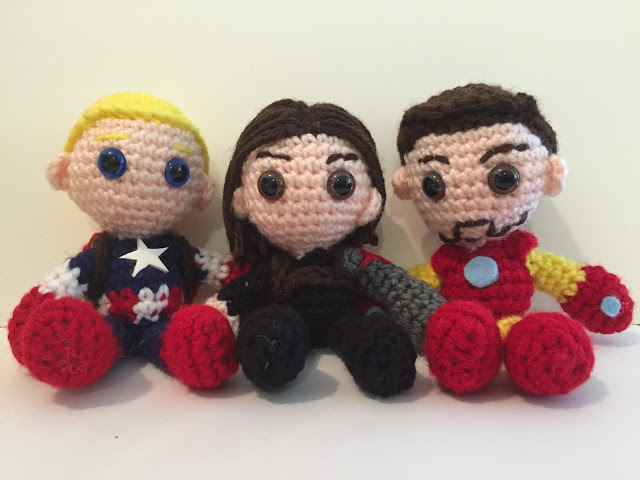 I feel like this picture is basically the storyline of CA: Civil War… "My Bucky!" "No, my Bucky!". And poor Bucky in the middle…

It all began 2 days before I was due to see Captain America: Civil War with a big group of friends. On Thursday night I decided out of the blue, "I need a pocket sized Bucky to cuddle during this movie." Especially since I planned to wear my Captain America hoodie, so of course I needed a little Bucky to go in my pocket! The only flaw in this plan was that it was 10pm on Thursday night, I knew I'd be working all day Friday followed by an office party, and Saturday I had more work stuff in the morning followed by about 4 free hours before I'd have to head out to the movie. And I didn't have a design or a pattern beyond "small and cute and Bucky".
Prototype Pocket!Bucky was pretty rough, but I got him done. Head & body were done Thursday night and probably Friday morning before work. After the Saturday work stuff downtown I knew I wouldn't have time to go home, so I sat in a green space near the Vancouver waterfront and made Bucky's arms and legs and started assembly & details. Transited out to the theatre to meet friends from dinner, and sat in A&W frantically attaching hair. Stood in the lineup to get into the theatre STILL attaching hair. He was kind of lopsided and his hair was a mess, but he was finished! After the movie I tore out his hair and re-did it to look nicer, and gave him to my friend for her birthday.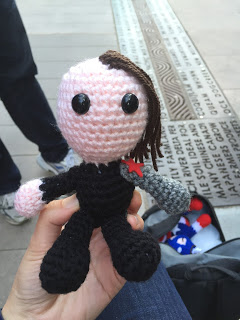 Just for fun – Pocket!Bucky 1.0 in progress. Sitting outside of the theatre starting the hair. And yes, that's Captain America in my backpack, sitting on top of a bag of stuffing. 😉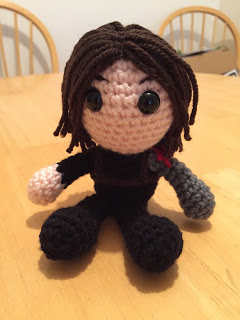 Completed Pocket!Bucky 1.0, after I fixed the hair.
That done, I started refining the pattern and making Pocket!Bucky 2.0. I decided that I wanted the head to be a bit smaller and the arms to be a bit bigger and more exaggerated. Starting with Captain America, I also began crocheting the hair colour right into the head – even for long haired characters, since that way I could avoid the flesh-coloured gaps between hair strands. I'm still fiddling with the pattern, and no matter what I seem to do each one comes out a slightly different size. Some sit up better than others. Some are just more polished looking than others. But I'm having fun with them and overall am happy with the look!
Since Bucky, I've made Pocket Captain America & Iron Man, who I've shared below, and a whack of other Pocket dolls that I'll be sharing in upcoming posts. Patterns are coming as well.
Short male hair styles has always been one of my biggest frustrations, so this time I decided to just crochet the hair colour right into the head and then do a ridge of slip stitches along the colour change line.
I decided to make Cap's shield on his back this time, in part to give him more stability (he kept falling backwards otherwise) and in part just for a change of pace. My other Captain Americas all were holding their shield. The shield is secured by straps and can be taken off. 🙂
I added a few higher stitches in the front of Tony's hair, to give his hair a bit of height.
And for some bonus fun, check out these side by side pictures of Pocket!Cap and Pocket!Iron Man versus the little Cap and Iron Man that I made years ago when I was just starting to crochet. I was trying to go for a sort of beanie baby look and instead it just looked like Cap had really let himself go lol. And Tony's body is weirdly… elongated… It's nice to see that I've progressed since then! Still lots to learn and improve on, but I'm definitely getting there.
That's it for now! Coming soon: Star Wars, Justice League, more Marvel, and various others…