First up today, I have some exciting news! If you're in the Vancouver area/Lower Mainland, come down to Geek Crossing in Maple Ridge and you'll be able to see some of my crochet works on display and for sale! They just opened up as a craft studio and homemade shop, showcasing works by local geeky crafters and providing a space for crafting workshops. I have a few Pokeballs in there, and my Pocket!Captain America amigurumi that I posted about a couple of weeks ago. My next project is to get crochet kits put together to sell in the shop and at FanExpo. They're aren't quite done yet, but soon!
Speaking of Pokeballs, I've been making them like crazy the past couple of weeks. They're quick and easy, and I figure they will be popular at FanExpo in November. Plus it's fun flinging them at my friends as I finish each one and proclaiming that I've caught them. I know there are already lots of Pokeball patterns out there, but I figured I'd add mine to the pot. 🙂 Check it out for free below the cut!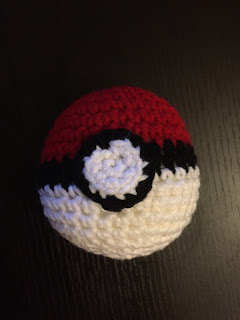 I took a couple of tries at this to figure out the size I wanted. The first one was too big, the second too small… this one was just right. 🙂
Hook size – H / 5.00
Yarn – Red Heart Super Saver in red, white, and black
Main ball
With red:
Magic circle 6
Inc ev st = 12
Inc ev 2nd – 18
Inc ev 3rd = 24
Inc ev 4th = 30
Inc ev 10th = 33
SC around for 3 rows = 33
Change to black
SC around for 2 rows = 33
Change to white
SC around for 4 rows = 33
Dec ev 10th = 30
Dec ev 4th = 24
Dec ev 3rd = 18
Dec ev 2nd = 12
Stuff firmly. I found it takes a lot of stuffing, just keep going until it's the right shape and is relatively firm.
Dec ev st = 6
Finish off and close hole. Hide the ends inside the Pokeball.
Front button
With white:
Magic circle 6
Inc ev st = 12
Switch to black
Crocheting in back loops only – Inc ev 2nd = 18
Finish off and cut, leaving a long tail. Sew onto the Pokeball, over the side with the colour changes to hide them.
And done! Now you too can throw Pokeballs at all your friends in an attempt to catch them (though this may also cause them to run away… if this happens, just throw harder.)