I suppose I could start off my apologizing for being a bad blogger and not posting anything in a very, very long time. I could do that… but I think I'd rather celebrate the new Deadpool movie that opens today. The film has been getting good reviews so far, and I'm really excited to go see it tomorrow! It doesn't hurt that it was filmed locally in beautiful Vancouver and stars beautiful (and equally Vancouver-ful) Ryan Reynolds.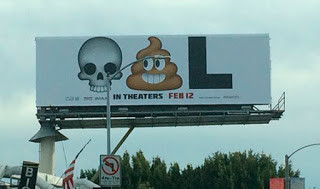 I especially loved all of the marketing leading up to the release of this movie. Ryan Reynolds' Deadpool tweets, passing it off as a Valentine's 'date' movie, and of course the ridiculous and brilliant use of emojis to spell out 'Deadpool'.
Ah, the good old 'Skull-Poop-L'. A friend suggested this would make a great cross stitch pattern, and I agree! So I put a little something together and am offering it as a free download so everyone can get their Deadpool fix!
Stitch up your very own Skull-Poop-L to hang on your wall and cherish forever. Yes, it's that special.


> Click here to download the pattern
To view the pattern, you will need a pdf reader. I like Adobe acrobat reader, but there are many programs that will open a pdf document. The pattern is a single page, so it's ideal for displaying on a tablet or computer and for zooming in to see the chart closeup. If you do want to print this pattern out, I would recommend using a colour printer to ensure the chart symbols are as easy to read as possible.
I hope you enjoy this pattern! I'd love to see what you create with it, so tag me on Instagram or send me a Tweet! Please keep in mind the pattern is free for personal use only. Items made with this pattern can be given as gifts, but not sold for profit (online or elsewhere). Thank you and happy stitching!