Merry Christmas and Happy Holidays! I hope everyone is enjoying the holiday season. I've spent the last few days at my parents' house on Bowen Island hanging out with family, playing board games, and eating far too much. It was Groot's first Christmas and he had fun getting to know our Christmas tree (a fellow tree for him to talk to in monosyllabic speech!):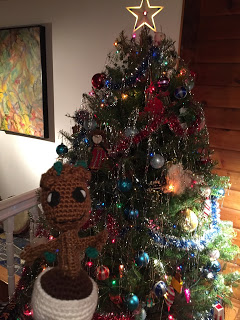 Christmas Eve – Groot awaits Santa Claus…
Groot also made another new friend – Groot pillow! My cousin bought this for me at a craft fair in Kingston, Ontario and I have no idea who the artist is unfortunately. I tried Googling 'Groot pillow' but didn't have any luck. If by some miracle the artist ever finds their way to this page, please send me an email and I'll add a link to your website! It's super cute and I love it. 🙂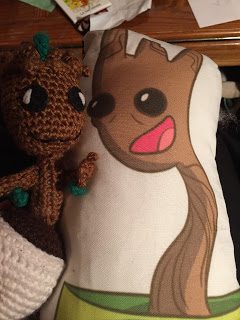 Groot and Groot pillow! We are Groot!
The last weekend before Christmas was our NerdHQ annual Christmas dinner – tons of Italian food, lots of friends and fun, and Groot.. had a bit too much to drink. Oh dear.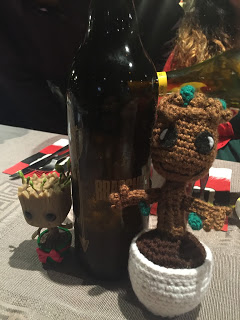 Groot with the holiday Groot Funko Pop – and a bottle of beer.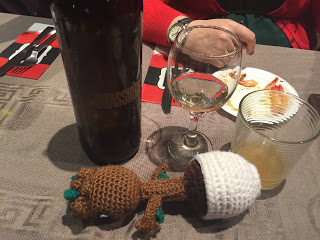 Too much beer, can't move now.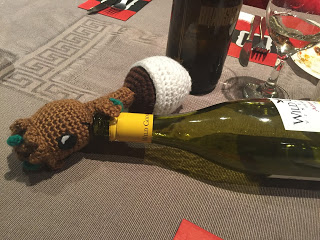 Groot found wine! No, Groot, drinking wine is not a good cure for being drunk on beer…
Groot did perk up later, though, to enjoy a screening of the sublimely ridiculous Canadian short film Treevenge partway through dinner. A NerdHQ Christmas tradition now, Treevenge is… well, pretty much exactly how it sounds. Christmas trees come to life and exact bloody, bloody revenge on the humans who cut them down and decked them out in ornaments in tinsel. There is a lot of blood and silliness. I am slightly concerned that Groot enjoyed this film so much, quite frankly. Especially since he was plotting with my Christmas tree just a few days later… uh oh.

Check out Treevenge here and prepare to be traumatized and never look at a Christmas tree the same way again.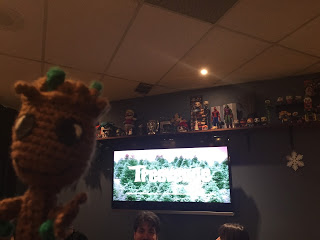 Don't get any ideas, Groot!
Groot also got to experience snow for the first time! December 17th was my 30th birthday, and a few of us went snowshoeing up on Cypress Mountain – so of course Groot had to come along. This was my first attempt at snowshoeing since I was about 8, which was not a pleasant memory (the snowshoes were practically as tall as me). Now the snowshoes are much smaller and it was way easier and more fun. It was snowing the entire time and very pretty walking through the snow-covered forest. We're going to go up again on Grouse Mountain next weekend, so more Groot-in-snow photos are coming!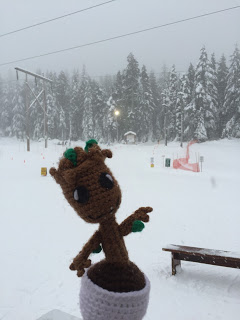 Getting ready to head up into the trails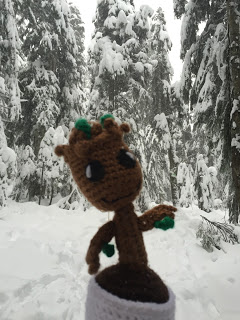 So much snow!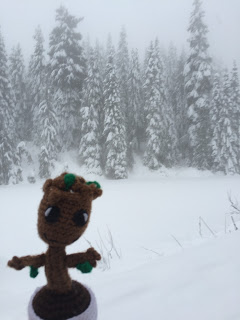 Even more snow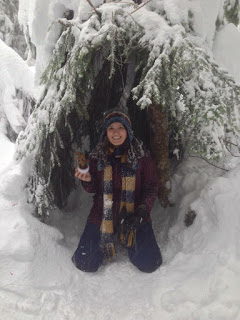 We found a little tree hollow on the trail. Me and Groot hanging out in the snow.
Coming up next – Star Wars crochet!