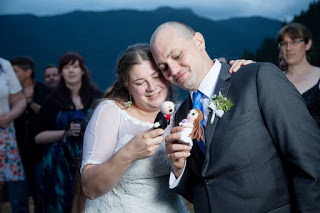 A couple of months ago my friends Kate and Peter were about
to get married and I wanted to make them something special and fun to
celebrate. Earlier in the year I had made Han and Leia dolls for my friend Nic's
wedding (she's a huge fan and they had Han and Leia cake toppers too!), but this
time I wanted to try my hand at a more traditional bride and groom set of dolls.
I perused a few patterns online but anything I liked was upwards of $10 to buy
the pattern so I decided to go at it alone.
I don't have any patterns written up for these, and honestly
I would need to put in a lot of work if I wanted to make them good enough to
write a pattern. But they are cute so I wanted to share them with you all
anyway.
My plan was to make the dolls in a rough likeness of Kate
and Peter – which basically meant choosing the appropriate colour of safety
eyes, giving Kate super long hair, and giving Peter no hair. I did consult with our
friend Sam, who was going to be in the wedding party, and she gave me some
information about what Kate's dress would look like, but I couldn't figure out
how to make tiny lace sleeves so I ended up going with generic wedding dress. I
did braid back some of her hair, though, which Sam told me was how Kate planned
to wear her hair. So that's something!
I started with Kate, and my first attempt, well… it didn't
turn out so good. I had one increase row too many across the body and then I
was trying a thing to make the waist taper in and the skirt flair out, and it
all seemed like a good idea at the time, ok? Well, you can see for yourself
below: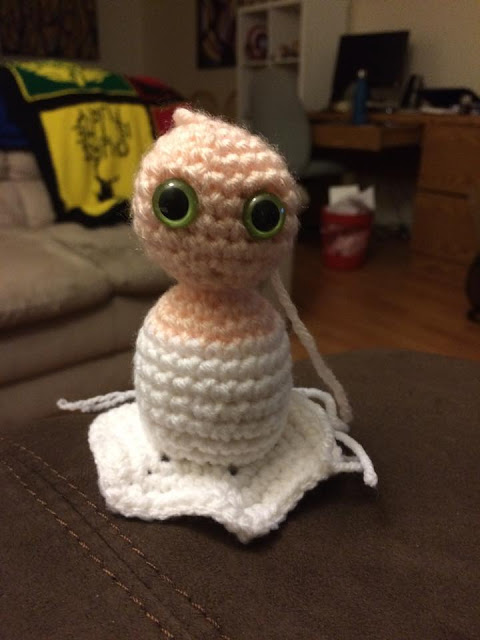 Kate doll attempt number 1. Not exactly a success.
Yeah. I looked at it and realized that there was no way I
could give that to my friend on one of the most special days of her life! It's
about the least flattering body I could have made. So I tore it out and tried
again, with one less increase row and ditching the sad attempt at a waist: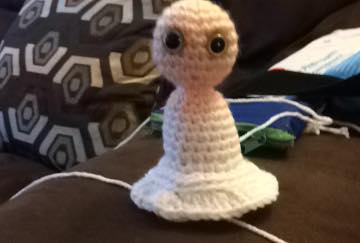 Definitely an improvement
Much better. And here is the final version, with hair (and arms) added
on and a little bouquet of flowers: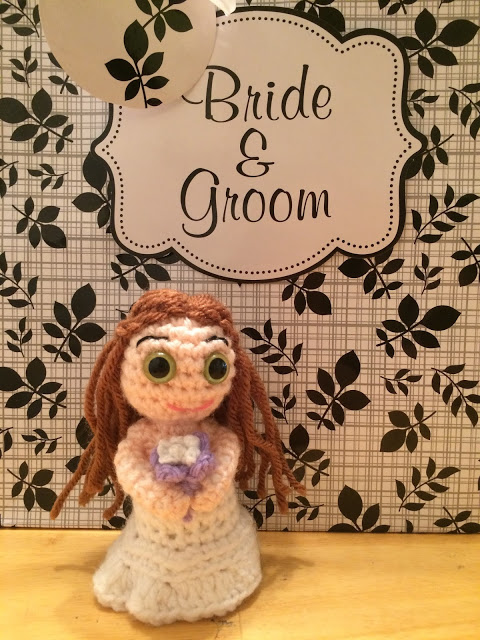 Kate doll!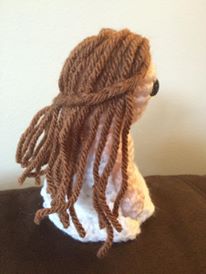 So much hair
Next up was Peter. Unfortunately, something rather strange and
disturbingly violent happened to him before I could finish…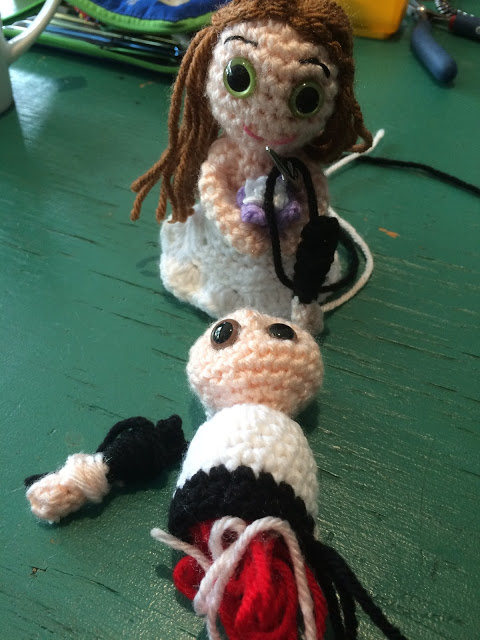 It's the Red Wedding!
Oh god, what have you done, Kate?? Such a tragic end to
their wedding day. 🙁
Ok, so the story behind this is that I was working on the
doll at our local nerd hangout La Fontana Caffe with a bunch of my fellow nerds
around me, but I had forgotten to bring stuffing. I had the body mostly
finished, but couldn't stuff it so it was still sitting open with a couple of
rows left to go. In the meantime I wanted to work on his little suit jacket,
but without a stuffed body it was going to be difficult to check whether it
fit. I had some red yarn with me that I wasn't using, so I decided to
temporarily stuff him with red yarn so I could make the suit jacket in the
correct size. At which point we all realized that it looked like his innards
were spilling out of him, because… we're all kinda sick freaks, ok? 🙂 So my friends, being
my friends, immediately started to create the scene – Kate doll standing over
her new husband, blade (well, small scissors) in hand, with poor Peter bleeding
red yarn everywhere… alas.
We also gave them a backdrop at one point: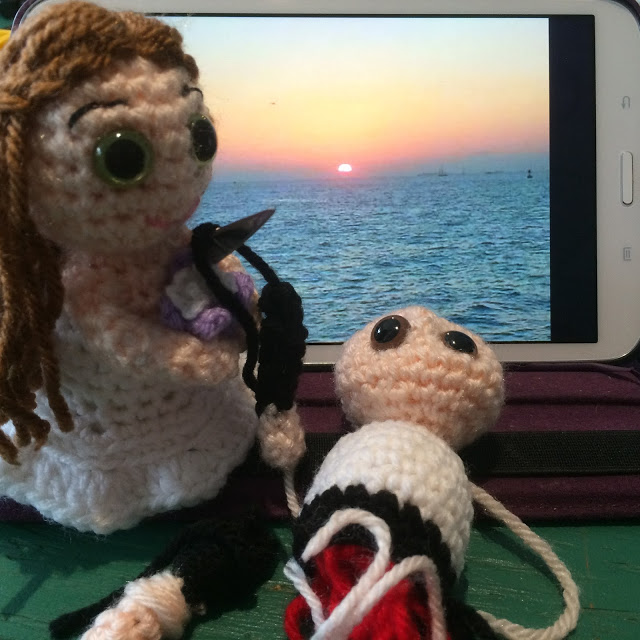 Such a lovely sunset for a wedding…
Anyway, here is the completed, non-horror movie Peter! He
ended up a little… lopsided… but still cute I think.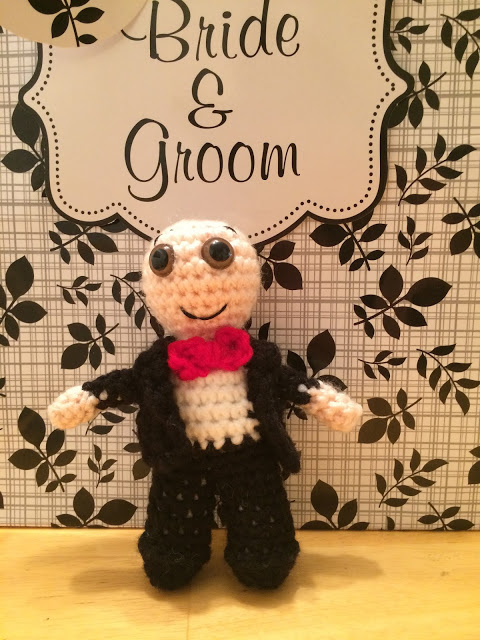 Peter doll!
Here they are together: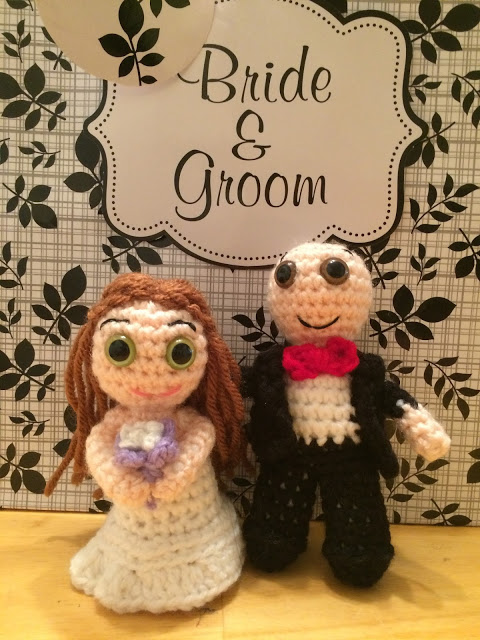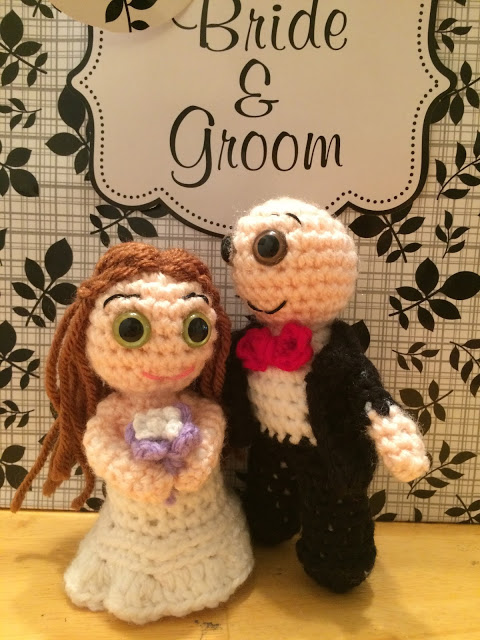 I gave the dolls to Kate and Peter during the wedding and they
loved them! Here's the happy couple with their dopplegangers, I'll leave it to
you to decide if I captured their likenesses or not.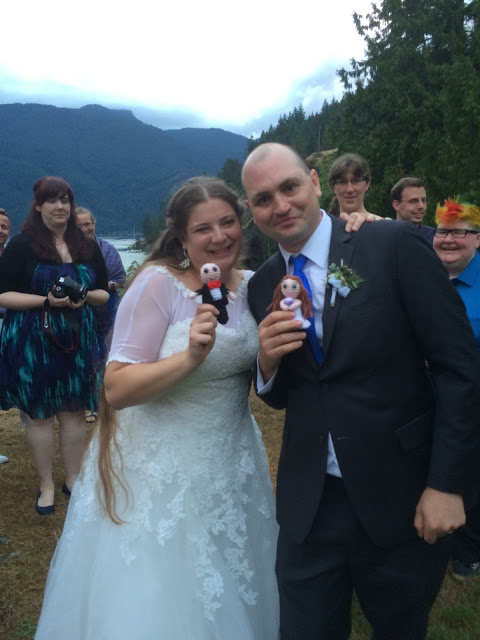 Kate and Peter with mini!Kate and mini!Peter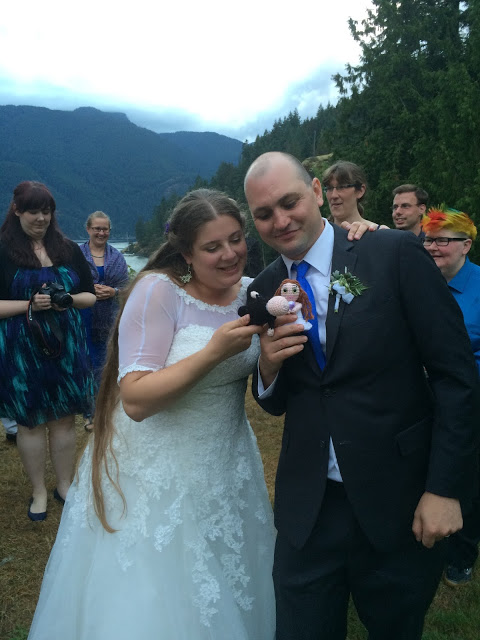 Making them kiss – aww….
Congratulations again to Kate and Peter! I had fun making
these and I was so excited to be there on your big day to share these with
you.
(the top photograph is credited to the professional photographer Ida Magdalena Adamowicz. The rest are mine)